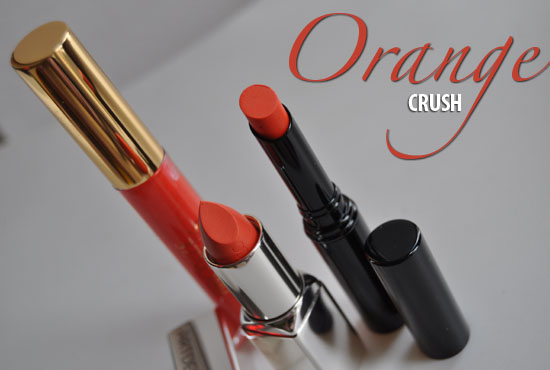 Yep. Orange again.
Coral, tangerine, persimmon, apricot or plain old orange is the pout pick of the season. I can't turn around crooked in my bags of samples without unearthing another few of 'em, and during a futile attempt to put some smacht on the mess on Sunday (which mostly involved moving things from one bag to another and kicking some stuff under the couch), I chanced upon a trio of juicy lip delights I thought I'd share.
Now look, I know this is a warm shade that ironically leaves a lot of you cold, but I love it. I am pale and dark-haired but it's a shade I find I really like on my skin. It doesn't suit everyone and there's no sense in pretending.  Dark skins can get away with amazingly bright colours and they look fantastic - so if you're Asian or black, you're on a winner with shocking tangerines.
Honey-toned blondes who tan might find the retro stylin's of last week's YSL Peche Faubourg are for them, but pale, ghostly blondes might well leave this alone unless they go for a very pale gloss - Starlet Peach from the Michael Kors collection for Estee Lauder would be a good pick, if you can still find one lurking somewhere. Redheads, I'm not so sure - if you're flame-headed and have given this a go, perhaps you'd leave a comment?
Swatches and descriptions are after the cut.
Advertised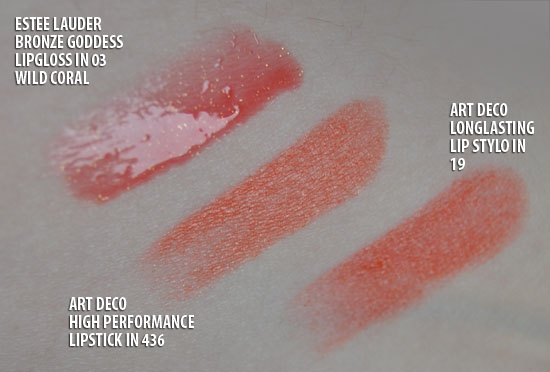 Here are the swatches - Estee Lauder Bronze Goddess in Wild Coral, €21, is lovely on its own thanks to a decent shot of shine, colour and gold sparkles, but adds an extra dimension to a matching lipstick. Art Deco high performance lipstick in 436, €15.75, is a satin-finished orange with a bit of pink in there. Trialling it at Sunday's vintage fair in Dun Laoghaire, I found it wore well and didn't make lips feel uncomfortable at all.
Art Deco Longlasting Lip Stylo in 19, €12.10, is a pretty uncomplicated creme orange with no effects or sparkle, which isn't particularly long-lasting - or at least I didn't find it to be so - but a nice shade with a good consistency. Decent price-point, too.
Art Deco stockists are on the stockists page.