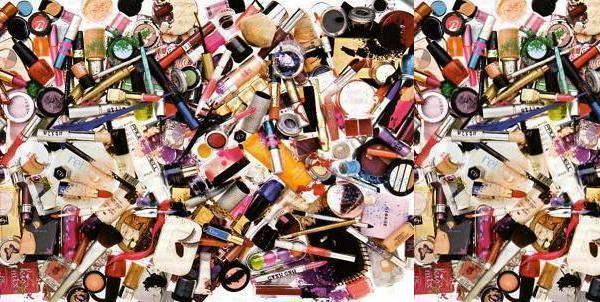 When Cailín wondered about how we all store our make-up bits and bobs in yesterday's Blather, my heart gave a little leap of happiness. In addition to having what at this stage can probably be described as a chronic make-up habit, I am also a serious hoarder, and I like things to be organised. Really organised. Like - and I can't believe I'm telling you this - I'm a member of a Flickr group to which people submit photos of their (sometimes ingenious) storage solutions and organisational systems, and I've bookmarked articles about keeping things tidy by peeps like John and Sherry of This Young House.
Why yes, yes I do need to get out more.
Anyway, I'm living proof that it's not impossible to be both a neat freak and a total make-up junkie. The key, of course, is great storage. I have to be totally honest here and say I'm really not a fan of train cases for storing make-up: I prefer to be able to size up my stash at a glance and find I'm more inclined to use products if I can see them. I have two big Habitat mirrored cabinets hanging over the bathroom sink (skincare to the left, make-up to the right), with white woven baskets from IKEA on that weird little shelf that most houses seem to have beside the loo and a two-tier side table between the pedastal of the sink and the wall for body, fake tan, and hair stuff. Nail varnish resides in shoe boxes under that little side table.
Advertised
Muji is the schizz for clear acrylic storage which is perrrrrfect for my visible-but-tidy ethos: I have a couple of their mini chests of drawers for things like eyeshadow, pots of eyeliner, blusher, bronzer, highlighter, lipglosses and lipsticks. Make-up brushes live in a see-through Muji pen pot, because I just could not be arsed fiddling about with a brush roll at 7am to find my MAC 187, and I haven't seen any splaying of the bristles. A wooden pot from Next houses pen eyeliners, lipliners, mascaras, pen concealers/highlighters and the like. Generally, I try to keep frequently used, everyday make-up items together so everything's to hand of a morning!
That's just my make-up storage system, though - how do you keep yours?