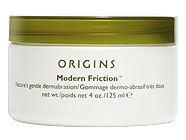 At dinner last night, I noticed that Himself's nose was looking rather well. Distinctly less congested than of late. I demanded to know what wonder product he'd come across, resolving to use some of it quick smart to try and sort out my gone-to-the-dogs-altogether chin. Sez he, "I dunno, that pot of stuff in the shower."
"That pot of stuff" is my fanfeckintastic Origins Modern Friction. Billed as nature's gentle dermabrasion, it contains rice starch to gently refine skin, lemon oil to illuminate, vitamin C to fight free radicals, and aloe to keep skin comfortable. It's a really excellent scrub which diminishes the appearance of fine lines and improves the look of pores, without causing redness, flakiness or irritation... but despite that I somehow keep forgetting to use it. Duh. Having seen the dramatic improvement in Himself's schnozz, though, methinks it'll be to the forefront of my mind over the next few weeks!
Advertised
Around the €40 mark from de shops downtown, do yourself and your poor oul' Visa a favour and stock up on your way through the airport to get about 20% off the RRP.