 I'm all washed out after my bout of cold and sniffles, and I need something to perk me up. When I'm not well, I look like a streelish urchin - all pale and exhausted looking. It's not a good look. I am in need of urgent bronzing! Bronzers are the ultimate quick pick me up too - easy as pie to use, and they give you instant results, with no developing time.
Aphrodite has blogged before about her love for Lancome Star Bronzer and I can vouch that it is indeed great. But y'know ladies, we've been there. Lets look for something new! And fab!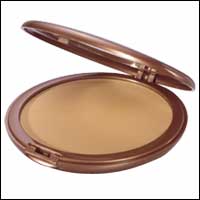 On the midprice end, Isadora Bronzing Powder has caught my eye a few times now, basically because it's HUGE - it's about the size of a saucer. I'm not entirely sure why it needs to be so big, but I'm sure there's a good reason. Oh yes.
Isadora is a Swedish brand that's sold here in pharmacies, meaning that you'll easily find it nationwide. It's also pretty cheap - not exactly sure how much the bronzer is, but I definitely think you'd have change from €20. It's available in two shades, and it has an added SPF. Excellent!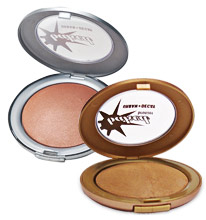 I have a serious crush on anything Urban Decay make, and I really like the look of their Baked Bronzer, which they say is mad special because it is indeed baked in an oven by Italian Mama's, and not pressed. This apparently helps it give an "ultra-smooth, sheer-finish bronzer that can be used wet or dry and always goes on streak-free". They say you can also use it with a small brush on eyes and lips, for a rich, concentrated colour effect.
It comes in two varieties: baked, which contains shimmer, and toasted, which doesn't. Guess which one I'd go for? Oh go on.
Advertised
Price-wise, you're looking at €20+ and you'll get it in Boots or department stores.

Lastly, on the slightly pricey end, I'd really love to try Guerlain's Teracotta Tient Dore. It's a gel-cream that gives you a golden glow, and is brilliant for use on the face, or equally as good when used on the decolletage before a night out.
We had an 'Ask and You Shall Receive' about it a few months ago, and the reader who needed it sourced told us that it's "basically a skin tint and gives a great natural tan that washes off which works brilliantly with or without foundation and gives a great glow throughout the winter. I'm nearly sure Guerlain have stopped doing this product but I thought somewhere, somehow, somebody was still selling it as without it I feel as white as a ghost and I don't like using fake tans on my face".
If you like the sound of that (and I do!) then you'll be pleased to know that The ever resourceful Strawberrynet sell it on the cheap, hurrah! It'll set you back about €30, and of course you'll get free shipping.