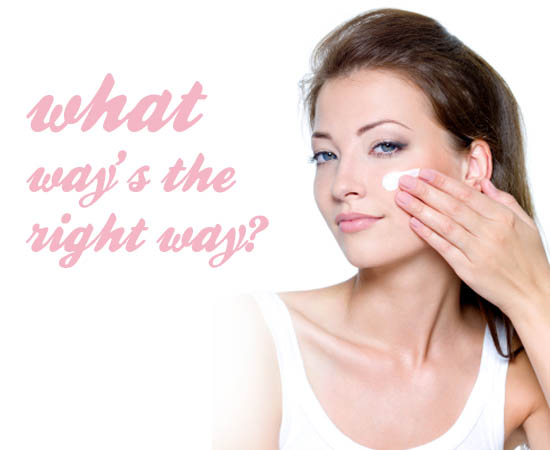 Recently, I noticed that almost every skincare lotion and potion I use is emblazoned with a different (and often convoluted) set of instructions for application. Without really thinking about it, I've just been doing whatever the side of the bottle or tube demands and patting, pressing, or rubbing the unction in question onto my skin like some kind of moisturising automaton.
So I decided to call on top therapist Elaine Butler Doolin and quiz her about a few of the products I use and their regimental application instructions.
First things first, though: it really truly necessary to follow these to the letter? Elaine is pretty firm in her affirmation. "I do think that you should follow the instructions for application."
That's us told.
Creme de la Mer moisturisers say: pat a small amount between fingertips and press into skin.
Elaine says: "Yes, this definitely has to be done as their creams are quite thick; once patted onto the skin it warms and then spreads more effectively. Plus, Creme de la Mer is excellent on skin that has high colouring or rosacea but rubbing this skin type will exacerbate the high colouring; therefore gently patting it on is the best application of these creams."
Advertised
Kiehl's Midnight Recovery Concentrate says: press fingertips to cheeks, forehead, and chin to evenly distribute the application before gently massaging it into the skin.
Elaine says: "It contains lavender and as essential oils and prescription creams penetrate into the bloodstream it is extremely important to follow the exact directions for use. Otherwise, you are wasting the product and it could actually have an adverse effect. Also, this will ensure an even application of the concentrate over the face."
Estee Lauder Idealist Pore Minimiser says: smooth on face.
Elaine says: "This is an exfoliant by definition, so should be smoothed on as just a thin layer of the serum is required to refine the pores."
So clearly it's worth your while following the instructions to get the most of your chosen products; turns out there's usually a reason they're so specific and slapping five dots on your mush and rubbing it around a bit isn't going to cut it. But what if your serum or moisturiser simply says something more generic like "massage" or - God forbid - "apply" or "use"? In such instances, Elaine recommends applying light or fluid products that by fanning a little on forehead, cheeks and chin, but if it's a thicker consistency and difficult to spread, just warm it in your hands first to allow it to spread more evenly.
Massaging on your moisturiser, she says, is fantastic: for lymph drainage, which will help detoxify congested areas, massage towards the lymph nodes which are located at the sides of the face, in front of the earlobes. Drain the jaw out to the ears, then down the sides of the neck. To improve muscle tone, DIY some effleurage by using the flat of the hands and working hand over hand to 'lift' product up and outwards on the face and neck.
Get Beaut.ie Delivered
Stay updated with Beaut.ie newsletters full of the latest happenings at Beaut.ie as well as great offers and things we think you might find interesting .