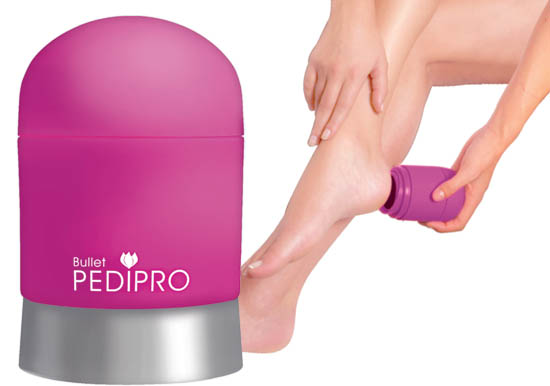 ATTN those with horrid hooves: the peeps behind the Ped Egg (the ever-inventive JML, fact fans) have taken everyone's favourite cheese grater-alike foot file and made it even better.
We know: How could such a thing be possible?
By adding a motor, apparently. Say hello to the Bullet Pedi Pro, Ped Egg's electronic sister which promises to buff hardened heels and bunions in a fraction of the time it normally takes to grind them into submission.
Advertised
Bang in four AA batteries to power the Bullet Pedi Pro's high-speed rotating microfile zips up and down, shaving off all the dead bits and horny accumulations and it collects them too, so you get the (dubious) satisfaction of emptying your parmesan shavings into the bin. Or on top of the pizza belonging to someone who's just really annoyed you. Mwhahahaha.
At €23.99, it's soon to land at Boots and Debenhams stores and of course also JMLdirect.com. Whaddya reckon - are you ready for the (foot) shave of your life?