 Our weekly perving and peeking continues! But no need to call GSOC, 'tis just cosmetics related. But I ask you, what could be more interesting than that? Nothing, I tell you, nothing.
The interesting thing about this series is how my makeup bag is practically the opposites to Laura's (she showed hers last week). We haven't got a single product overlap! I tend to favour a mix of both budget and high end and I'm not exactly space conscious. I use ALL the products.
Funnily enough, I don't have a day to day makeup bag. I put my makeup on in the morning and expect it to last into the night (except for lipstick touch ups). It usually does so do note that all of the products I show here are hard working and long wearing.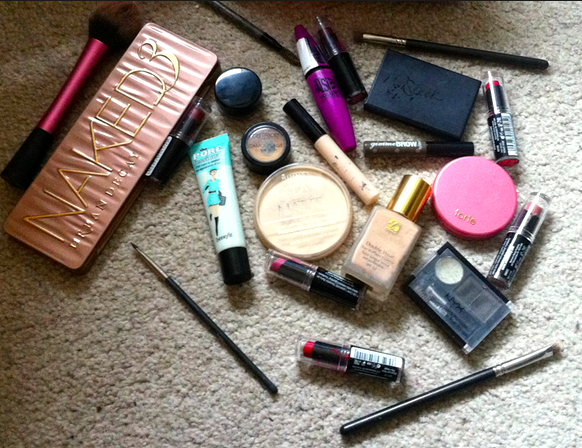 Skin
First up is Benefit's The POREfessional. This blurs pores like no other and leaves the most gorgeous base for makeup.
My foundation du jour is Estee Lauder's Double Wear in 'Cool Bone'. This is the fullest of full coverage foundations but doesn't look cakey on the skin. The best part is its demi-matte finish which eradicates the need for much powder.
I use two concealers - Collection's Lasting Perfection Concealer for under eyes and Catrice's Camouflage Cream for any bad blemishes.
I apply my foundation and concealers with a damp Real Techniques Miracle Complexion Sponge.
I finish by dusting some of Catrice's All Matt Plus Shine Control Powder over my T-zone. This is a pretty good dupe for the Rimmel Stay Matte Powder that the beauty world went nuts for although it has slightly less coverage.
I have a big round head so contouring is a must for me. I use Sleek's Face Contour Kit in 'Light' which is a contour and highlight duo.
My favourite blush at the moment has to be Tarte's Amazonian Clay Blush in 'Doll Face' which I picked up when I was away. The colour is a stunning matte baby pink that layers well.
I use my Real Techniques Blush Brush for my powder, contouring and blush as it is so fluffy and soft that it does a good job of all three.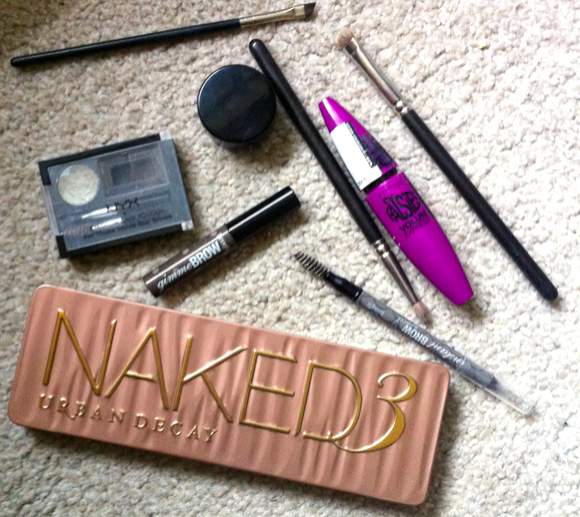 Advertised
Eyes
For my brows, I swap between Benefit Instant Brow Pencil, NYX Eyebrow Cake Powder in 'Black/Gray' and  Benefit's Gimme Brow in 'Dark'.
I change up my eyeshadow every day and try to get the use out of my huge collection but if I were to go away and only take one thing in my makeup bag, it would have to be Urban Decay's Naked 3.
The two brushes I use daily for eyeshadow are my flat Mac 239 to apply and fluffy Mac 217 to blend.
My holy grail eyeliner has to be Inglot's Eyeliner Gel in #77 which is a matte black. I use Inglot's 23T Liner Brush to apply it as it is so fine that it makes application that much easier.
The mascara I'm using at the moment is Maybelline's Volum'Express The Falsies Black Drama which I received in my Christmas stocking. I'll be glad to see the back of it as it's clumpy and has the most annoying habit of flaking down my face.
Lips
Finally, for lips, I like to change it up daily, depending on my mood. Recently though, I have been utterly obsessed with Wet n Wild's Megalast Lip Colors. Despite the tiny price tag, they are such good quality, have great pigmentation and last really well.
Advertised
So there you have the truth - I'm a complete product junkie. So g'wan, tell me, are you as bad as me? Do any of these products make an appearance in your own makeup bag?