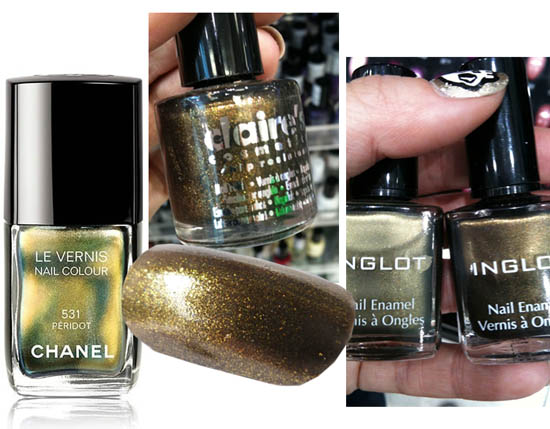 Polish fans seem to be split into three camps when it comes to the nail edit in Chanel's forthcoming Illusion D'ombre collection. Some (like me) are intrigued by Peridot, some (like Kirstie and xgirl) are more interested in Graphite, and some are remaining steadfast in their resolve never to buy a (or another) Chanel polish.
Kirstie was first out of the traps with a look at some potential dupes for Graphite away back in March, but if you're somewhere between liking the look of Peridot and refusing to pay €22 for a bottle of nail varnish, this post is for you.
Now, there's a reason I've used the word "approximations" in the title: duochromes (which seem to shift through different colours as the viewing angle changes) are notoriously difficult to dupe. So instead I thought I'd show you three budget metallic yellow-greens with duochrome flecks that I stumbled across on a recent shopping trip and put me in mind of the murky, mossy qualities of Peridot.
Inglot No. 138 (left) & 967 (right)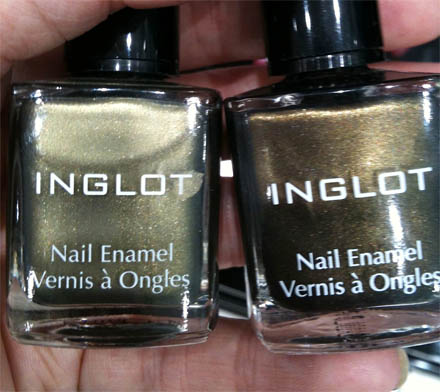 Advertised
Nail polishes from the Polish brand are 3-free as well as free from camphor, which can be an irritant, and any I've tried hit bottle colour in two coats so I wouldn't expect this pair to be any different.
Claire's Accessories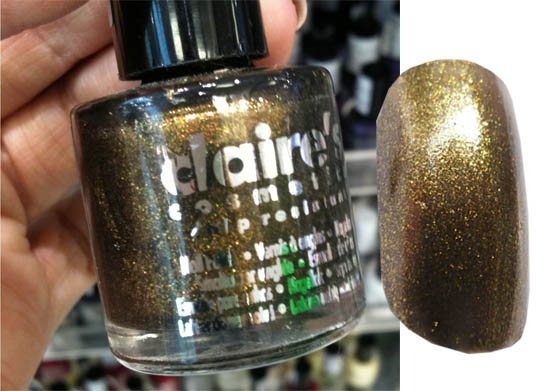 At a doony €2.95, I could hardly leave this one behind me. I'm afraid that the bottle I got has no name or identifying number on it, which I only realised when I got home, but there isn't another polish like it on Claire's stands so you're in no danger of picking the wrong shade if this one's calling out to you.
This was my favourite of the three polishes I happened upon and looks more sophisticated than its price tag would suggest.
Advertised
I love muddy, muted colours like these anyway and the fact that they're going to be huge for autumn across fashion and beauty truly delights me, but do any of these polishes tickle your fancy?