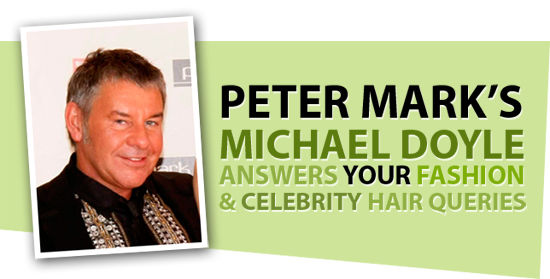 You lot got a chance to ask Michael Doyle your 'sleb and trend-related hair queries a while ago and the poor fella's been slaving over  a hot laptop ever since. Did he get round to your question? There's only one way to find out - read on for this hair expert's pro tips.
I've really wanted to get hair extensions for a long time now and recently heard about a technique which involves surgical tape! Have you heard of this method, and would you recommend this or a different variety of hair extensions? I have the clip-in variety but having naturally light blonde hair I cannot find a shade of blonde that correctly matches, so they always look very fake!
Since Cheryl Cole first appeared on X Factor last year, big bouncy hair is all the rage. While her hair is beautiful it is incredibly difficult for most women to achieve this look unless you add hair extensions. I would never recommend permanent or semi permanent hair extensions because they cause such damage to your natural hair which can take years to repair. Clip on hair is a great way to add length and volume to your hair.
You mentioned that you find it difficult to match your shade of blonde for clip in hair, check out Hairspray.  They have great clip in extensions in every colour. You are sure to find something to suit. Remember to be patient, good hair comes to those who wait, so let your hair grow at its natural pace.
What hair colours/styles are in fashion for this summer? I recently read that the "bowl" is back… say it ain't so!
Yes the 'bowl' hair is back but in a new form called the 'Vogue bob'.  This look acquired its name from the infamous Anna Wintour, editor at US Vogue who has had this style for years. It is a classic take on the more modern Victoria Beckham angular bob.
It works really well on women who have a heart shaped face. It's also a great look for the summer, low maintenance but effortlessly chic.
How do you get those oh-so-fashionable beachy loose waves that all the celebrities are sporting?
High maintenance hair is very 2008, which is why the "surfer hair" style works extremely well during these summer months.  It is an easy look to achieve with fabulous results.
When washing your hair make sure to use the correct shampoo for your hair type.  Remember not to use conditioner because this can leave your hair very slick and won't allow the waves to last throughout the day.
Use a diffuser when blow drying your hair. It is the best way to achieve body and volume. Use a small drop of Curl Conscious Cream by Bumble & bumble, from €29.50. Warm the cream between your hands and work throughout your hair.  If you want more definition to your waves you can take a GHD and twist the ends of your hair to get the curl.
To ensure your look lasts, use Bumble & bumble Surf Spray, from €23 on your roots, and work throughout your hair. This will help keep your volume with a light hold.  It is important to remember that the less you touch your hair the longer it will hold.
Are those braids at the front of the hair still fashionable for the summer? I know you can buy fake hair pieces which you can slot in, but I'd love to know how to do it myself.
Advertised
Lauren Conrad, from the MTV show The Hills, has been braiding her hair this season and it looks great! French braiding your hair is very difficult and time consuming, so I would recommend either buying the pre braided headbands that you can find in any accessories shop. Or you can take a small section of hair, braid it then pin it towards the bottom of your hair line.
Can you please give us some tips on how to create that high coiffed/ beehive look that girls are wearing with a ponytail. It always looks really flat when I try to do it!
The beehive is back but now has a modern twist. The best way to achieve this look is to not wash your hair the day before. I know this may sound strange but freshly washed hair makes it difficult to style and the hair tends to go flat which is probably what your problem has been when you try to recreate this style.
Firstly, you need to section off the appropriate amount of hair that you will need to tie back into a high ponytail. You can smooth this down with Bb Shine by Bumble & bumble, from €22,  this will give your hair a healthy shine.
The number one rule of the beehive look is backcombing. To backcomb use a paddle brush. Many people use combs but I believe you get better volume and control with a paddle brush. You then brush in the opposite direction of the hair cuticles.  This will create unbelievable volume.
Now lift the hair back into the position that you want it to sit, take a brush and gently smooth back any stray hairs. To hold the beehive into place use some clips from both angles and make sure that your hair is secure. Once your beehive is in place, brush your hair back into a ponytail and use a hair elastic to hold it together. For the final step, add a touch of hairspray to keep your hair from moving.
Any tips for controlling rebel hair at the back of the neck for those of us who've taken the plunge and gone for an SS09 bob?! Trying to stop it from kicking out is now a full-time job. Oh also what products would you recommend for funking the style up/breaking up the ends a bit/making me look like Heidi Klum?
The SS09 bob is an amazing haircut that does need a bit of maintenance from time to time.  My advice is to wash your hair as normal with shampoo and conditioner which suits your hair type. Before blow drying your hair, spray some styling lotion from Bumble &  bumble, from €26.50.  This will give your hair the nourishment it might need and protects it against the heat from the dryer.
Blow dry your hair in sections, this makes it much easier to control. Start at the bottom of your hair and most importantly that rebel hair at the back of the neck. Use Redken's Straight Line range which will keep the cuticles of the hair in place when you are styling.
When blow drying use a small round brush and continuously turn it while you put the heat towards your hair. This will allow your hair to curl in rather than kicking out as you have been experiencing.
If you want more of a sleek look, just quickly run the GHD through the top layer of your hair and then add some Bb Shine by Bumble & bumble, from €22 - this will add that Hollywood shine.
Also a quick trim may be all your hair might need as this style can grow out faster than others.
To achieve the style that Heidi Klum has been sporting recently, check out Styling wax by Bumble & bumble, from €22. Add a small dab of wax and work through your hair.  This will create texture or you can just use it on the ends for shape and separation.
I'd love a modernized Marilyn Monroe-style peroxide waxy crop. The only thing is, I have naturally poker-straight long brown hair!! Am I asking the impossible or is it doable to bleach and perm my hair without destroying it completely?
Advertised
To be frank, yes you are asking for the impossible. Your best bet is to buy a wig! Never ever bleach and perm your hair. Unless your hair is very short I would not recommend bleaching, and perming your hair can leave it very damaged. Have you considered highlighting your hair? It's a much safer way to lighten your hair, and you can always use a GHD to create a head full of curls.
All Bumble & bumble products mentioned are available at Peter Mark salons nationwide.