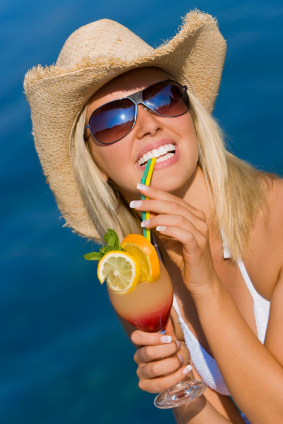 When the sun comes a shinin it's only goigous and all that but it does kind of leave us in no mans land when it comes to makeup.
Change the base
You'll need to be changing the colour of that base if you're fake tanning your face and/or the rest of your body. After all a white face and a tanned bod is not a good look. But if you don't want to splash out there are some great products out there to add to your foundation to get the shade just right. Try mixing some of this Clinique Self Sun Face Gel in with your foundation to summer up the shade. I can't believe how well this is working and I'm a total convert now. Maybelline Bronzing Booster Drops are also ace for this purpose.
Lighten up
Switch to a lighter base - or a tinted mosituriser if you've got great skin. If you're going on holiday somewhere hot you'll probably find that foundation slides off your face no matter what you do - so why not just go with something like the tinted version of La Roche Posay Anthelios SPF 50. Even out your complexion and get maximum protection, this is what I use on holliers. And if you're not sure in which order you should apply sunscreen and foundation check here.
Waterproof it
Waterproof mascara is the business on holidays as is waterproof eyeliner. Try Max Factor Masterpiece or Rimmel Sexy Curves - both do good waterproof versions.
Advertised
Crease less
Non crease eyeshadow or eye primers come into their own in hot weather. Try the new Estee Lauder Doublewear eyeshadows and liners to make sure everything stays in place. This is a great time to experiment with colour too.
Bronzer
And now the most fun part - bronzer. Choose one which is not too flat and has a touch of shimmer for summer. Bobbi Brown Shimmer brick is the business for summer and you can pick up lovely mutihued bronzers from most of the makeup ranges. Check out some of the bronzers we've reviewed.
Nails
Don't forget your piggys - bright colours look great in summer sandals. Have a look at some of the great neon shades that are on trend this season.
Now over to you - any tips, dos or don'ts?