 My bedroom wall has finger prints all over it. There's a big cluster of them on the left side of the mirror where I have to lean in to apply mascara when I'm not wearing my contact lenses. The stains are, we'll call it, a 'bone' type colour of the cool variety. As in, it's my Estée Lauder foundation that just won't come off my finger tips unless I dip them in white spirit.
I have toyed with using other methods of foundation application but my rushing in the morning holds me back.
Also, when I attempted to paint my makeup on with a standard foundation brush it streaked and didn't get into all the nooks and crannies. I gave the Cailyn OWow Brush a go and I liked it but it took too long to get the airbrush effect.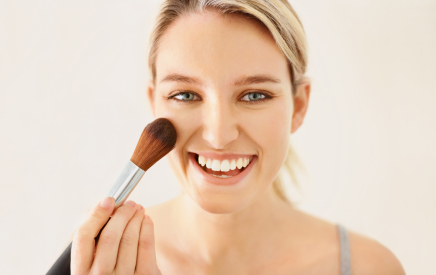 I also spent about an hour the other day acting the Impressionist and stippling my foundation in. The overall effect was great but - I don't have that kind of time to spare!
Advertised
For everyday foundation application it's back to the digits for moi. The method I go by is: smear it all over my face from the nose out, pat it in so it gets right down into the pores. It works for me, although man, it's hard to take off again. However, I will be whipping out the stippling brush this Saturday so I can be as picture perfect as I can be for a friend's wedding. For her sake, not mine.
What is your fool proof method for foundation application? Does the type or brand of foundation make a difference? Do you use different methods for different occasions? Have you any great tips to share?