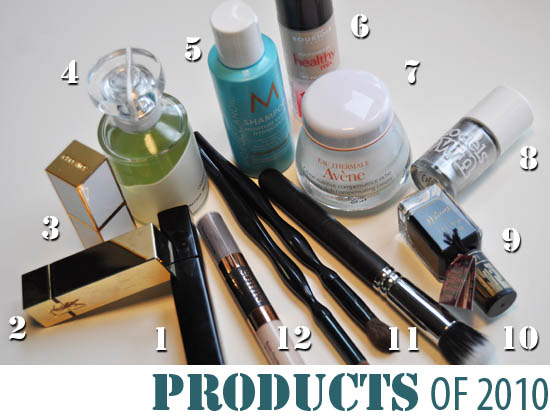 2010 was a good year for beauty. Not, I would say, the most stellar year, but enough came my way to start a few new obsessions and it definitely generated some can't-live-withouts.  Tom Ford launched his amazeballs lipstick line, it was the 12 months in which Moroccanoil found its feet and while alt-brand Illamasqua might have pulled out of Ireland, new brands arrived like French skincare line Avene.
I definitely liked and was impressed than more than the above in 2010, but here's my roundup of the items that stood out to me the most over the past 12 months.
I tend to only like lipgloss if the gloop conforms to strict guidelines - you have to be actually able to see it once it's on, and it has to last some amount of time longer than five minutes. Thankfully Chanel's Rouge Allure Extrait de Gloss ticks my boxes and so makes its happy way into the top 12.
YSL's Rouge Pur Couture lipstick launch was fab. 18 bullets of colour-saturated goodness plus a white and a cola brown to layer over any shade made this bespoke lip line very covetable indeed.
And here's the man himself. At €45, Tom Ford Private Blend Lipcolour lipsticks are steep. But they are gorgeous. Creamy, super-saturated with pigment, beautifully packaged, this is truly luxe lippy in 12 I-want-'em-all shades.
Technically this doesn't land until January but I've had it for a while and it really stands out to me as a fragrance launch that's genuinely uncaring of the current trend for sweet, sugary and celeb-based. Untitled by Maison Martin Margiela is uncompromisingly tart, and all the better for it.
The one thing that tamed my tangle this year was Moroccanoil shampoo and conditioner. I continue to be really impressed at what this brand has done for my frizzy, neglected mane. These, for me, are quite simply great products.
While I've used and been impressed by other foundations in the past year, Bourjois Healthy Mix stands out as a really good and well-priced offering. Delivering a high-end finish at a pharmacy price, one of the most impressive things here is that the brand includes shades that actually work with pale skintones. If you're normal to dry skinned, like medium coverage that's natural and slightly glowy, then this is simply a winner.
Good news for French skincare fans: Avene got wider distribution here in 2010 and its Extremely Rich Compensating Cream is one I've been using a lot for day during this cold spell. Affordability and issue-specific skincare mark this line out and it's well worth giving it a try.
Chanel this and OPI that: you can spend all you like on expensive nail polish but the brand that really captured my attention for shades, formulation and fash-forwardness in this, the year of the nail, was Models Own. This accessible company rarely gets it wrong: there's that stellar shade choice, excellent pricing and the fact that it mimics everything the big boys put out within days means we can all get a slice of the dupe pie in double-quick time.
Beauty's about transforming yourself and having fun. Barry M's Instant Nail Effects crackle topcoat encapsulates that in one small, bargain-priced bottle. I hunted high and low for this piece of beauty booty and am still using it. It's actually got most things women want from their products - it does what it says it will, it's cheap, and when you put it on you go "ooohh!" Really, what more can you ask for, eh?
Mac's fab little 130 brush is brill: a mini version of the classic 187/188 duo-fibre brushes, you can use this for foundation, for buffing in product around the nose etc, or for contouring. It's great.
I am so sorry I didn't pick up more Sonia Kashuk brushes at Target when I was in New York in November, because these have fast become two of my most used. They're excellent - ergonomic handles and great heads of firm, soft bristles make these so quick and easy to use that I've pretty much abandoned a lot of my other shadow brushes.
Lastly, this little piece of kit is something I use a lot for day, and yet have never given it its own blog post. It's by Sothys, it's a double-ended primer and mineral eyeshadow and it's brilliant. Slap on the primer and press on the taupey, shimmery shadow, add a bit of mascara and red lipstick and hey presto, I'm all set. A real idiot-proof beauty buy that looks completely innocuous, but which totally stole my product-loving heart.
Advertised
So, that's me - but what about you? What new beauty buys and brands rocked your boat in 2010?