 One of my favourite downtime activities is watching makeup videos on Youtube. I use them for inspiration, to learn new skills, and generally to indulge an unceasing obsession with makeup (and our own Makeup section is designed to do the very same thing!).
And the Pixiwoo sisters - Samantha Chapman and Nicola Haste - are massively popular. With nearly two million Youtube subscribers, these two makeup artists command a serious following. Their massive success has led to their Real Techniques Brush range, which is a fantastic range of affordable brushes. I have several in my kit, and I don't know a makeup artist who doesn't.
Now they've released the Real Techniques Bold Metals Collection to some cranky commentary online. I've heard a lot of comment about how the brushes are too expensive, and hence a disappointment, so I went to see for myself and have one of the brushes to show you.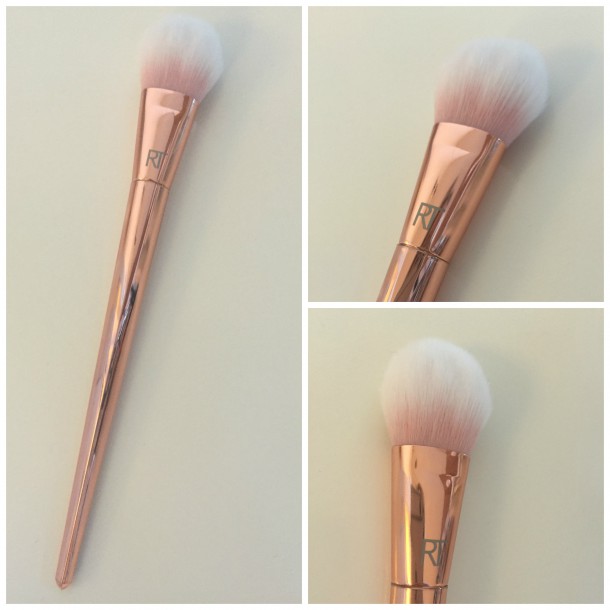 This is the Tapered Blush Brush (no.300) from the range. This one is nestled happily in my makeup bag,  but I did spend some quality time with the rest of the range.
The brushes are excellent. They look beautiful, they are weighted to aid balance and give them a more luxe feel, and the bristles (still synthetic and cruelty-free) distribute product perfectly without absorbing it into the bristles. It's certainly true that the price point of these brushes rivals premium brands, but these are premium brushes.
And as far as I can see, the claims that these are overpriced actually mean 'these are overpriced for a product stocked by Boots'. At €31, the tapered blush brush would look completely at home on a Charlotte Tilbury counter or in a Mac limited collection.
Advertised
I can't fault the quality, they don't shed, and the fullness and shaping of the brushes are professional quality.
Just look at them! I particularly want the flat contour and pointed crease brushes, and though I adore the look, I prefer substance over style. These have both in spades, and if you can afford to invest, they're entirely worth the money. If not, the standard Real Techniques Brush Range is here to stay, and is one of the best on the market. Win win!
The tapered blush brush works beautifully for foundation as well as blush, and leaves an airbrushed finish to your base - its fluffiness makes it the perfect foundation blender, and it is small enough to give you control.
I love these brushes. And boo to the naysayers! And if you'd like to see more of our favourite brushes, you can check them out here. 
Advertised
Have you tried these? What's your view on them? To the comments!