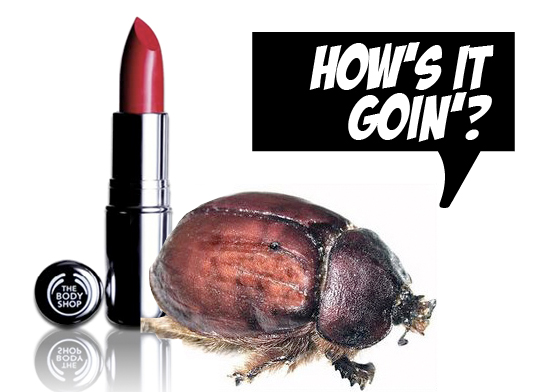 Despite my best efforts, I have never been a great one for wearing red lipstick. And, since I found out where the red dye in red lipstick tends to come from, I may never bother trying to make it work for me again.
The crimson dye that's primarily used to give red lipstick its hue is derived from a wee beetle-like family of insects. Carminic acid is obtained from the body and eggs of cochineal insects to produce cochineal extract and carmine, which are dyes used to produce orange and red tints. Traditionally both were used to colour fabric, and today cochineal is also used as a food colouring, while a significant amount of the world's carmine pigment is used in cosmetics: in hair and skincare products and make-up like lipstick and blusher.
Since most labels aren't given to declaring - and aren't required to declare - the inclusion of beetlejuice in their products, you can keep an eye out for "cochineal extract", "carmine", "crimson lake", "natural red 4", "C.I. 75470", and "E120". Even the phrase "natural colouring" can be used to refer to a dye that's been derived from an insect.
Advertised
And if you're wondering why on earth the cosmetic and food industries are so set on using the poor little beetle-y to colour their reddish wares... a number of commercial synthetically produced red dyes were found to be carcinogenic, which sent eeeeeverybody scuttling back to cochineal.
All this is why the peeps at The Body Shop have never produced a rich scarlet red lipstick - until now. Brilliant Red is one of the hues in their new Colourglide Lip Colour collection, is made from all-natural-but-no-animal pigment, and is on-counter now.