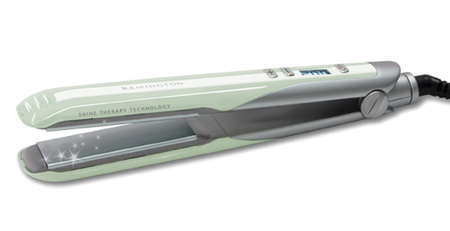 Hairdryers that are supposed to be good for your hair  - or at least, not as bad for it as "conventional" hairdryers - have been around for a while now. Using scary-sounding things like negative ion technology and Tourmaline and infrared heat (oh my!) they are supposed to cut drying time, prevent parching of the hair by locking in moisture, and add shine. A straightener that's nice to your gruaig, however, is a new one on me. But that's exactly what Remington's new Shine Therapy Straighteners, sister product to the hairdryer that Kirstie recently posted about, claim to be.
The floating ceramic plates of these laddies ensure that pressure is distributed evenly throughout the length of the hair, and the plates are infused with avacado oil and conditioners like Vitamin E to prevent cuticle damage and moisture loss without leaving any lingering residue. There's no need to worry about replacement cartridges or the like: the micro-conditioners dispersed by the ceramic plates are guaranteed to last for the lifetime of the product (5 years). Meanwhile, temperature controls allow you to precisely regulate heat from 150°C - 230°C to prevent unnecessary frying of the locks.
And the verdict? Well, I thought nothing would ever, ever tempt me away from my GHDs... but I was wrong! My hair is definitely a lot shinier and softer with these straighteners than it would be with my GHD Mark IVs, and it actually does look magically conditioned after straightening. It also seems less prone to static and weather-induced frizziness, which is very good news indeedy for the season that's in it. Add to that the fact that these glide absolutely effortlessly through the hair, are a very pretty duck-egg blue colour (oh yes, I am that shallow) and that the arms can be locked together to prevent damage to the plates when travelling, and I am totally sold.
Advertised
Remington Shine Therapy Straighteners, RRP €104.99, currently just €62.99 in your friendly neighbourhood Argos!