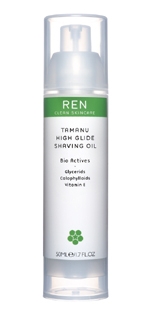 Beaut.ie reader John has already given us his thoughts on Dior Homme's new anti-aging range, and as this is a guy who very firmly knows his stuff, we're delighted to get his input as it can only help other fellas out there who are a bit bewildered as to what to buy.
I've said this before and I'm sure I'll say it again, but it's really hard for men to know what to use on their skin. We women are bombarded with information from our early teenage years through advertising and magazines and so our problem is generally too much choice. But men and skincare info is a bit of a void, and because male skin does have specific needs, using your bird's products on the sly isn't going to give you optimum results.
And just 'cos you're a man doesn't mean you can't suffer from sensitive skin either. Loads of men do, and organic ranges are brilliant for you if you find regular supermarket brands give you breakouts, dryness or redness. REN is one of the best organic brands out there, and at this juncture I'm going to let John give us the benefit of his expert advice:
I've been using a couple of REN products for quite a while now. I use the Tamanu High Glide Shaving Oil and it is genuinely the best shaving product I have *ever* used, and boy have I tried a lot, from Dermalogica to Origins to Nivea…you name it. This one is without a doubt my favourite and I'd never be without it. Unlike other shaving oils, this is light and never leaves the skin greasy. Nor does it clog up the razor, which as many guys will tell you, can be a major nuisance. Plus, like all REN products, there are absolutely no chemicals or irritating ingredients. The shaves are always incredibly smooth and close, yet the skin never feels tight or dry afterwards.
Advertised
After shaving and rinsing the oil off, I use the Multi-Tasking After Shave Balm. This cream feels fantastic. Really moisturises the post-shaved skin with loads of calming, anti-inflammatory ingredients and even help prevent the dreaded ingrowing-hairs too!
I honestly couldn't recommend these products highly enough to all guys out there! They aren't even that pricey really. I usually pick them up in Space.NK when I'm in London or Belfast and each tube lasts for at *least* 6 months.
If you're quailing at the thought of trekking up to Belfast to buy, then fear not. As we reported recently, REN is going to become a lot more easily available nationwide really soon. Hurrah!