 This season, there are so many new eye palettes being launched it'd make your head spin. But the upshot of it is that there's something out there for everyone regardless of your taste, budget and shade preference.
Today I'm looking at The Essential Palette from Clarins, but before I get down to what I think, here's what the official bumph says:
"10 gorgeous, on trend eye colours with a variety of matte and satin finishes, it's all about the eyes, so wear it your way. Plant and mineral extracts such as musk rose oil and white meadowfoam guarantee a feeling of ultimate comfort. Our eco-designed packaging ensures our continued commitment to respect our environment is maintained."
So far, so bumphy.
Now I like the idea of the eco-friendly packaging but as I've said before, packaging alone is not enough to make me love something - so what's it's like inside?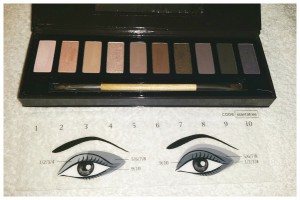 I had thought this was going to be a nice but fairly bog standard neutral palette, perhaps even bordering on a bit bland. When I got my paws on it though I realised it had a few tricks up its sleeve including a handy application guide and a good quality, double-ended natural hair brush. Both of these are common place with palettes but some brands make them seem like an after thought, you can see that more effort went into these.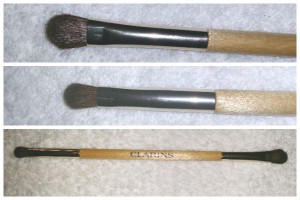 Advertised
In terms of size this palette is a bit of a monster, don't get me wrong, it's not comically big, but in comparison to something like say, the Catrice eye palette I reviewed a few weeks ago you can see that it's not small (see pic below).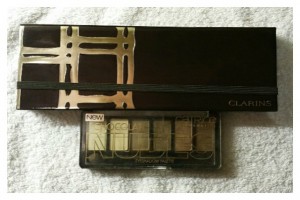 They've not scrimped on the amount of product you get though which is another plus. The eye shadows themselves are indeed a mix of matte and satin finishes and are both soft and easy to blend.
As I'm on a bit of a glitter buzz at the moment, the fourth shade really caught my eye. It is by far the most glitzy in the palette, but unfortunately causes much more fall out than the others because the texture is slightly different. To be honest though, it's too pretty to care about a little bit of fall out. The other shade that is unusual is the last one; it's a stormy grey with a pinky/purple fleck through it that I can imagine would look beautiful on green eyes.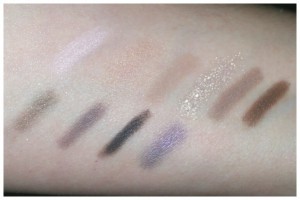 The neutral browns and greys all have good pigment in them and would definitely work for day or night eye make-up looks, regardless of whether you're very skilled or just prefer a simpler finish.
All in all, for €43 this is a great value palette and one that I'd recommend to a friend.
Advertised
Have you seen this baby in the shadowy flesh? If you picked it up, what did you think? Or are you just tired of the some palettes and long for some neon madness to break it up? To the comments!