 Finding a perfect lip liner can be a difficult task. It's a fine line between too hard and too soft. Too hard, and it doesn't apply smoothly; too soft, and it bleeds up your face, and leaves you looking like Krusty the clown.
But we do need to use one because without it, you will never achieve the perfectly precise defined lip.
Launching today are five new shades of Urban Decay's 24/7 glide on lip pencil (€18.50).  This news makes me skip around the office because I am quite the fan of these. What I love about this pencil is that it goes on smoothly and accurately.
The five new shades are:
Blackmail: deep berry wine
Bittersweet: Bright purple
Advertised
And in terms of its texture, it is hard enough for it not to bleed out but it is soft enough to give you control in creating your perfect lip.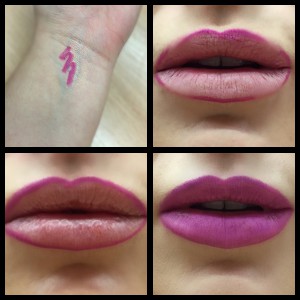 I tried Bittersweet which is a bright pink/purple shade to trial out (you can see it on my smackers above). This product goes on like a dream but be careful because it dries and sets quite quickly. This is what enables it to stay on for so long but it means that you have to work fast enough or it will be hard to remove. And yes, this is what you want but only when you are happy with your line being perfect. So work like the speed of light.
To apply, I started by drawing an "X" at my cupids bow, a dash on both outer corners of my upper and lower lip, and a curve on my lower lip. Then I simply joined the dots. Following that I just used the liner to colour in my whole lip.
Hopefully my step by step above as requested will help you.
Other than that, it stayed on all day, didn't feel too cakey or dry and provided a great base for my lipstick.
Advertised
Are you a liner wearer or do you go without?