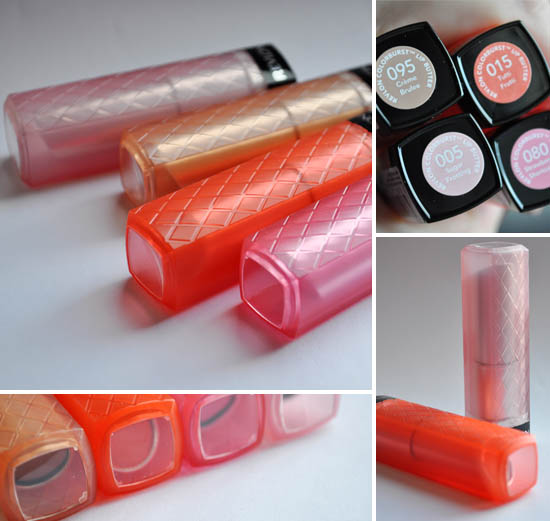 Honestly, I don't think I can remember many launches as hotly anticipated as Revlon's Lip Butters. I've been Tweeted, emailed and commented silly about them, because they've been sending our blogging brethren wild in the states where they've been available for quite some time.
The promises are big, I'll grant you: 20 shades of sheer-to-medium colour, a moisture boost of up to 156%, ingredients include mango, shea and coconut butters, a formula that's an easy-to-apply gel all dickied up in cute non lip balm-style bright packaging.
But before we loose the run of ourselves entirely, lets just hold on to one thing, shall we? These are LIP BALMS. That's all. Not the second coming of Christ, some amazing skincare to turn back time or a new can-do-anything foundation. LIP BALM, people!
*And breathe*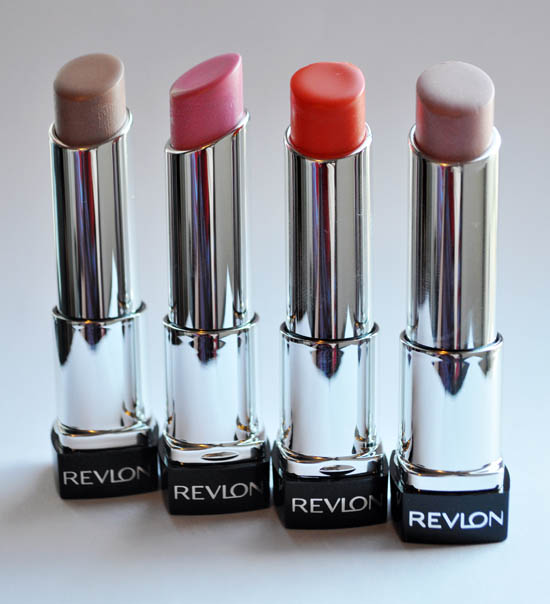 Revlon Lip Butters in Creme Brulee, Strawberry Shortcake, Tutti Frutti and Sugar Frosting
Ok, now we're calm, lets get down to business. Firstly, Revlon Lip Butters will launch in Ireland on March 12th (and not April as previously thought, though something tells me we might find them in stores from this Friday if we look hard) and will cost €9.60 each.  I had four shades to trial ahead of the launch, so what do I reckon?
From top down: Sugar Frosting, Strawberry Shortcake, Creme Brulee, Tutti Frutti
Advertised
Here it is in a nutshell: to my mind, Revlon Lip Butters are to lips what BB Creams are to skin. They're an easy-to-use hybrid product that you can slick on with no expertise needed, no time required with application or worrying about going outside the lines, they have nice hydrating benefits and for those who don't like or want too much pigment on their lips for day - or who just don't ever go for the full-on lipstick effect - then they'll give you enough colour and shine to satisfy some form of a makeup requirement, without looking overdone.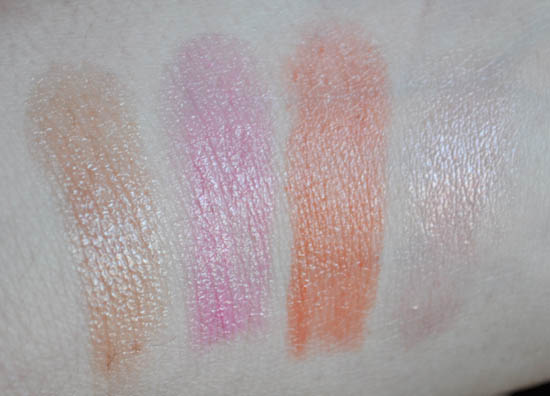 One swipe swatches of Creme Brulee,  Strawberry Shortcake,  Tutti Frutti, Sugar Frosting
If you gravitate in general more towards last year's sheer, shiny lip launches like Rouge Coco Shine et al, rather than the full-on opacity of a matte or creme finish, then chances are you'll like these.  The texture is much thicker and gloopier than the slick, sheer feeling of a high-end lipstick, so be warned. By no means would I call it a gel as Revlon has done, but it's not a traditional lipbalm feel either. It is something in between, and as these are very soft, very emollient, be wary of twisting them up too much, as I'd say they'll snap.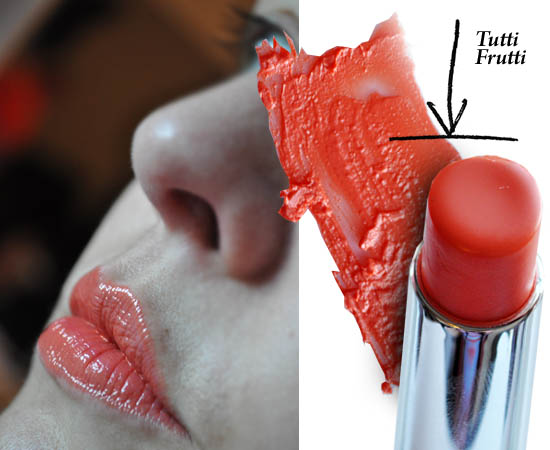 Tutti Frutti on the lips
In wear, yes, they are decently moisturising and deliver a sheer-to-medium result with nice shine. The flipside of that is the colour deposit doesn't last long so you'll find yourself reapplying frequently. The amount of colour you get on the lips is also variable across the different shades on offer. Of the ones I've tried, Tutti Frutti and Strawberry Shortcake are the nicest, Sugar Frosting is - I am sorry Revlon - vile, being a shimmery, frosty, pinky mare on the lips, and Creme Brulee is a light warm nude. It's grand - very inoffensive.
So, who are these for?
Anyone who absolutely cannot wait to get their paws on 'em
Balm fans
Those who love sheer colour as opposed to full-on creme finishes
Advertised
Are you looking forward to Revlon Lip Butters? What shades are you dying to get?