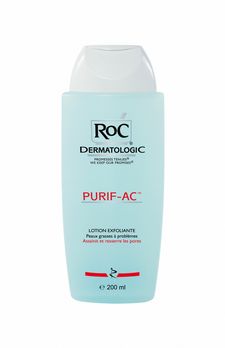 I am eternally jealous of these people who don't have blackheads. Bah, it's so unfair. I have a constant crop of horrible yokes lurking on nose and chin, and even politely calling them 'areas of congestion' doesn't help. They're gank and I want rid.
And I am indeed so eager to be rid of them that it's a sure thing that any time I see a product claiming to do same, I will buy it. One such product was Roc PURIF-AC, which is an exfoliating lotion that "purfies and tightens the pores".
It's designed to eliminate dead cells and impurities from pores, and by using it daily, you help to eliminate gunk from your pores and reduce the appearance of blackheads.
It actually does work, and I think I know why. The bang of alcohol off this stuff would have Oliver Reed rising from his eternal slumber and running to the chemist for a bottle or 4 - it's so strong it made my eyes water. Definitely not for those with dry skin. I was pretty wary of it and so only used it on real problem areas like my nose and chin, so if you have excessively oily skin it could well be a good product to try. And like I say, it does work. I noticed a significant reduction in blackheads over the course of the couple of weeks I tried it out in.
Advertised
You'll get Roc PURIF-AC in chemists and my bottle cost me €12.40.