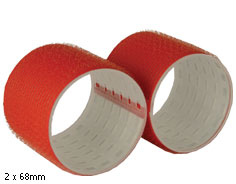 I blogged the other day about getting Dreamgirls Hair and lots of you responded. Ah I knew my beaut.ie lasses would approve!
I mentioned that I'd bought some rollers in Boots and while they'll do the job, they're not quite as fat as I'd like. They also seem a little flimsy, but they're not really going to get a massive amount of use, so I'm sure they'll hold up just fine.
But if I'd waited, I would have gone for the Ceramic Thermal Rollers on the HQhair site. They're available in a much better choice of sizes than Boots has. You can go up to 6.8cm which would give you a really good dose of lift and volume. The ones I bought were the biggest in the shop, but they weren't as big as that, so I may invest once I've had a good old go of my own at the weekend. These ones I've found on HQhair also have a ceramic coated aluminum sheet that improves heating properties, so if you blow dry with them in, you'll get a really good result.
Advertised
They're well priced too - 2 6.8cm rollers will cost you only €5.75. You'll get 4 3.6cm ones for the same price, but they'll obviously give you a tighter curl.