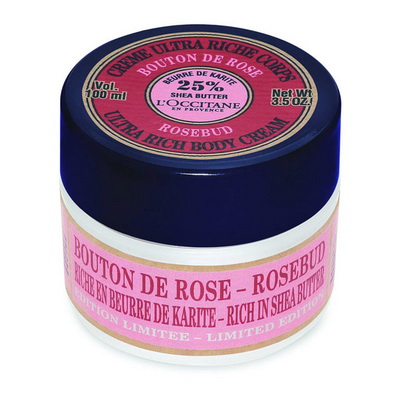 Celebrating 20 years of their lovely shea butter products, L'Occitane have just launched a limited edition series of new versions of their lovely Ultra Rich Body Cream, fragranced with rose, vanilla, acacia, ylang ylang and frangipani. Made with 25% shea butter, as well as moisturising extracts such as linseed, marshmallow, sweet almond and honey, Ultra Rich Body Cream will nourish and hydrate the driest of winter skins and have it smelling lovely while it's at it.
My favourite fragrance from the new range is the Rosebud cream. Enriched with rose essential oil, this smells light and fresh and not a bit granny-ish, as some rose products can tend to be. If you thought the Diptyque Roses candle the other day was a bit pricy, this might be a cheaper way to get your fix of roses for Valentine's Day, with the added bonus that you'll be wearing the fragrance.
Advertised
I do have to mention the following, however: these creams are priced at €23.95 for a 100ml tub here. "A bit expensive," I thought to myself "but it would still be a lovely treat". And then I looked it up on the UK site when I went to write this piece, and nearly fell off the sofa when I saw the price - £12.50! I don't know if this was just a price fluke due to Sterling fluctuations recently, but in case you're interested in this and will be in the UK, you might want to wait and do your shopping there!