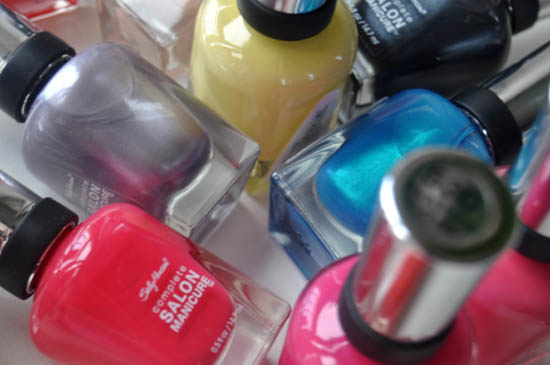 Attention nail nuts: mark June in your diaries as the new start of your mani-loving life. Incoming soon is a 36-strong suite of nail colours from Sally Hansen. Complete Salon Manicure is that line and if you've ever taken a schlep around a Duane Reade, Ulta or CVS State-side then you'll have already seen these cute little bottles loaded with fabulous shades.
I've long lamented all the ace Sally Hansen stuff our American sisters get that we're denied, but in the case of these babies - and the Minx/Incoco-alike Real Nail Polish Strips, which'll land in September - that's happily about to be rectified. And oh boy, what a choice. There are cremes, jellies, darks, brights, shimmers, metallics and nudes. Actually, possibly barring glitters and duochromes, there's pretty much everything your heart could desire here for €8.95 a bottle.
Now, that's a little more expensive than you'd generally pay for a pharmacy-brand nail varnish. As a comparison with two hugely popular competitors, Bourjois' So Laques are €7.99 and Rimmel's 60 Seconds are €5.23 - but here's the clincher. You get 14.7ml in the Sally Hansen bottles and 10ml in Bourjois' with Rimmel coming in at 8ml.  So, decent value.
The size in fact compares favourably to polishes from brands like Orly, Models Own and Revlon, fact fans. And if you're into nails, you will want some of these. I can feel it in my water, bones, eyes, brain and all the other various bits of myself that I use for beauty predictions.
I've taken approx 45 jillion shots of the colours, so shall we take a gander? Ah we will.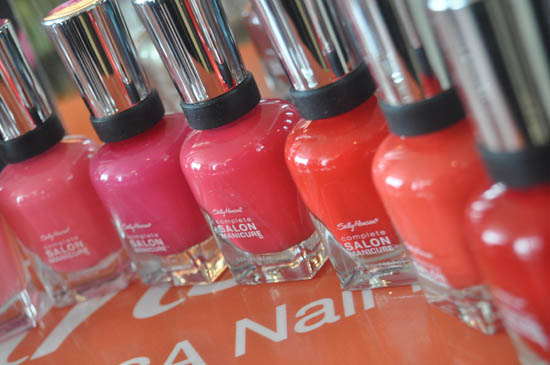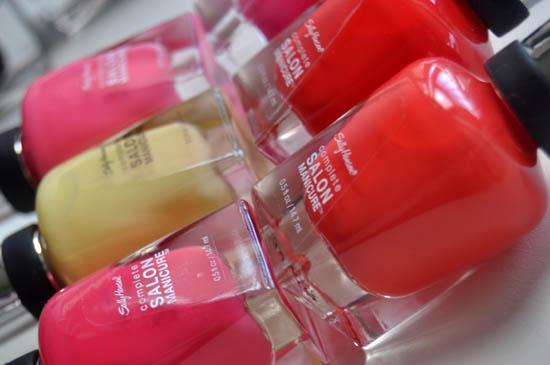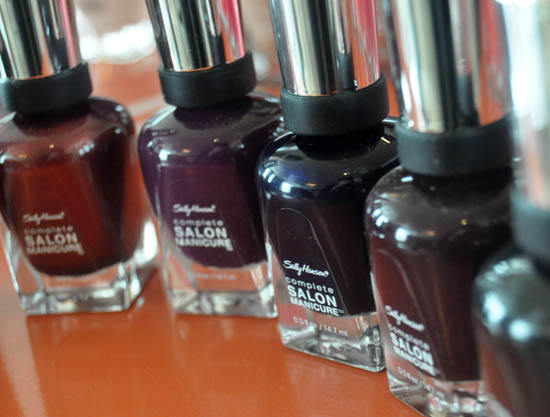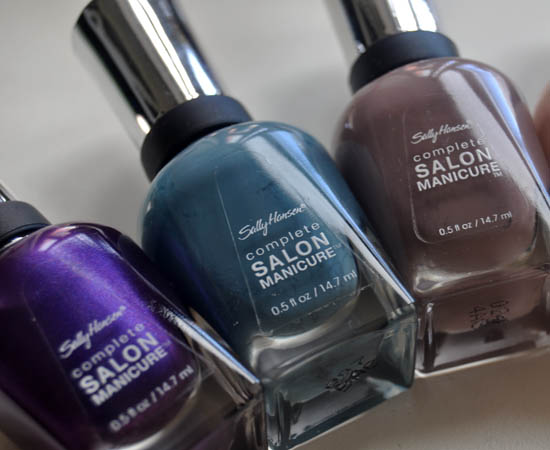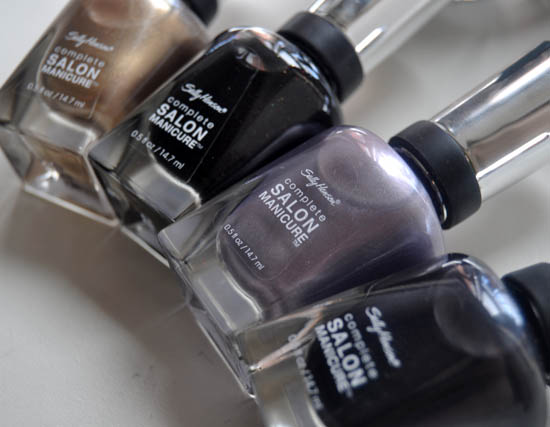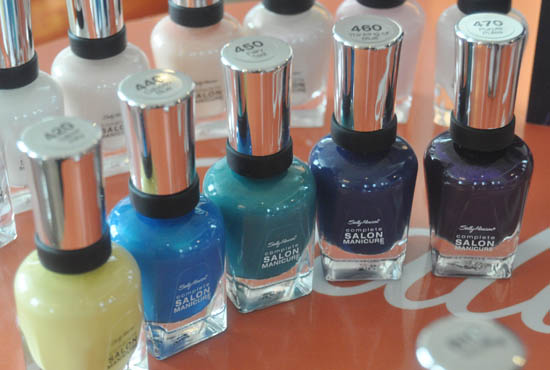 See? There really is one for everyone in the audience.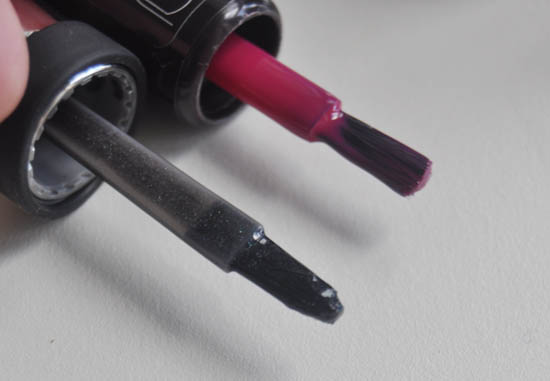 Advertised
Sally Hansen brush bottom, Rimmel brush top
Conveniently for me - and also you - the brand gave me an equal jillion polishes to take home and I've been faithfully swatching this weekened. First impressions on these is very good. The brush is great - it's flat and wide with slightly tapered top and is most like the Rimmel 60 Seconds brush, which is nice and flat and wide and lets you do a nail in one stroke. These are the same, so application is very easy.
The polish goop in all cases is thin and with any of the shades I tried - I've swatched 15 below, but have more to hand - there was not one claggy, annoying pain in the ass colour.  A result. There was a differentiation across colours as to opacity and number of coats needed, but consistency was, well, consistent.
The claims Sally Hansen make for this product are not for the faint hearted - they say it's an all-in-one that combines base, colour and topcoat PLUS strengthening and growth treatments AND it'll last for a full ten days wear. Right so. That's some manner of thing to be talking up, isn't it?
It's clearly way too early to comment on any strengthening or growth-enhancing claims but regarding that week and a bit of wear, on my super-flexible and splitty nails it's a dead cert that this won't happen. The mani I had done at the launch of the range was chipping by the next day. I am just not a good judge of longevity though and remain amazed by people who can get longer than two days out of a file and paint. It doesn't happen for me with any brand, so I won't be able to assess these on that criteria. We'll put talon sleuth Lynnie on the case!
Getting my David Attenborough hat out again, lets check out some of the shades in the wild: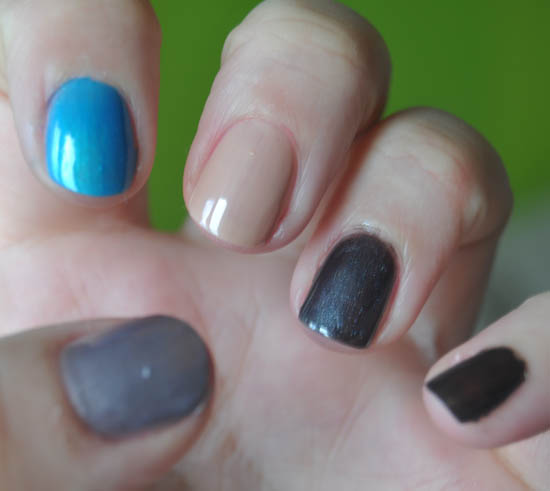 From thumbnail clockwise: Pedal to the Metal, Calypso Blue, Cafe au Lait, Black Platinum, Midnight in NY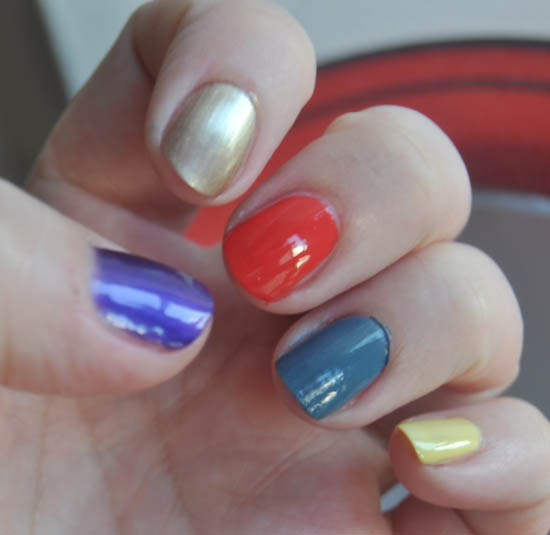 From thumbnail clockwise:  Purple Pulse, Gilty Pleasure, Kook-a-Mango, Gray by Gray and Yellow Kitty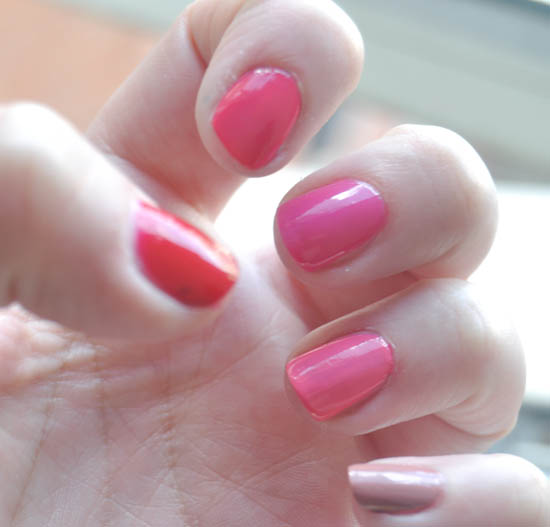 From thumbnail clockwise: Right Said Red,  Frutti Petutie, Back to the Fuchsia, Shrimply Divine,  Mudslide
So, any other comments from me on these? Yeah - most shades are two coaters with the exception of some of the cremes like Kook-a-Mango, Grey by Grey and Shrimply Divine which are passable with one - but nails might look a little bald in places. I'd say go for two on most to be on the safe side.
Advertised
Some of the pales and the darks need three. I was surprised to find that (some of) the deep shades seemed to be in sheer jelly bases so take some layering to get a decent result - you're looking at three-to-four coats for the ones I've tried anyway.  Any disappointments? Just one out of the whole bunch which is decent odds. That stellar purple on my thumb in the middle pic was the only let down for me here. It needed five coats to get it to opacity.  It's a beautiful, electric shade so if you've more patience than I do - then hey, go for it. Honestly? It's just too much of a faff for me - I'm generally a two-coater and no more. I just don't have the time.
Last words: these are glossy, fuss-free, easy to use, come in an absolute heap of gorgeous colours and offer tons of choice for a euro and a bit under a tenner. Honestly, this is a really solid new launch from Sally Hansen and is going to become a total reliable in lots of your beauty bags. From me, it's a perfectly polished thumbs up. Now just to wait till June, eh?