 We all know the scenario. For whatever reason - cold weather, central heating or alcohol-based topical products - you look in the mirror and your skin is a complete mess. It's so dry that it's stinging. You have flaking, angry, red patches. It feels tight and generally uncomfortable.
When I trained as a makeup artist, the fact that students worked on each other meant that I was applying and removing makeup twice or three times a day. My skin suffered terribly and I developed shiny, leathery red patches on my face and sore, peeling eyelids. So I developed an overnight routine that was potent enough to make a difference that I could feel (and see) when I woke up in the morning.
You may need to follow this routine for several nights in a row to really restore your skin, and obviously if you have a diagnosed condition like eczema, then you should always take the advice of your dermatologist. This routine is designed for dry/normal/oily skin types that are distressed, not  skins with a medical condition.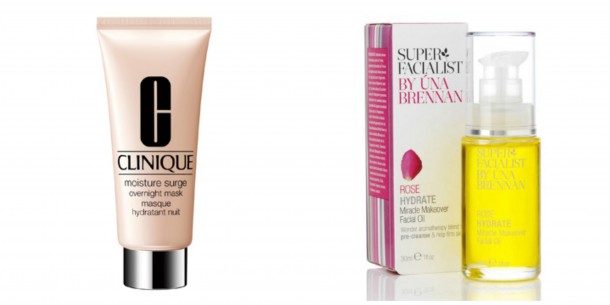 When your skin is really buggered, it needs both hydration and moisture- you'll need to use both water and oil based products. So, if your skin is in dire straits, here's the bedtime routine I'd recommend:
Advertised
Start with an oil or balm cleanser. These are best for all skin types - even oily. Learn more about cleansing by checking out my skincare routine.
Follow this up with an alcohol-free toner. The last thing your skin needs when it is stressed and irritated is alcohol.
I would recommend applying Hydraluron (€32.50) now.  This is an optional step but it increases the efficacy of all the hydrating products you'll apply on top. I'd never be without it.
Next, you need to apply a rich, hydrating mask. Something like Clinique's Moisture Surge Overnight Mask (€38) is ideal to tackle dehydration. Your tight, angry skin should already be feeling better. If you have extra-tight or dry patches, apply a little extra mask to them.
Without waiting for the mask to soak in, apply a layer of a nourishing oil. Just rub it between your palms and pat it onto the skin over the top of the mask, so as not to displace the mask. And use plenty! I like Superfacialist by Úna Brennan Rose Miracle Makeover Facial Oil (€17.99).
The next product is one I save only for emergencies! It is emulsifying ointment, or emollient moisturiser. It is available from any pharmacy at around €5 for a large 500g tub. If you've ever suffered with eczema, then you'll be familiar with this stuff. It looks like lard and smells disgustingly of wax - it is essentially paraffin. Dermatologists recommend it because it traps water and moisture inside the skin by creating a completely impermeable barrier. Warm a blob of this thick stuff between your hands to liquefy it, and then pat it over your face just as you did with the oil. This stuff has a similar effect to wearing cotton gloves on moisturised hands overnight - it really helps the other products to absorb.
Now, take your shiny head to bed!
When you wake in the morning, you might notice that there's a residue on your face from the emulsifying ointment. You should also notice that your skin feels better!
Cleanse as normal.
Your skin should look calmer and feel better. The dryness should have improved (how much it improves depends on how knackered your skin was last night! You might have to follow this routine for a few more nights to get your skin back to normal).
The only time I'll ever, ever use a manual exfoliator is the morning after I've carried out this routine. Even then, I'll only exfoliate manually if my skin is not feeling tight or sensitive and if I need to remove any flakiness.
I like No. 7's Total Renewal Micro-Dermabrasion Face Exfoliator (€14.25). Like I said, manual exfoliation is an emergency step for me, I generally only use Acid or Enzyme Exfoliators.
If you must manually exfoliate, keep in mind that last night your skin was very sensitive, and it may still be sensitive. So use your noodle - if your skin doesn't feel good, don't exfoliate. If you do exfoliate, rub the product in with the same force you'd use to apply moisturiser - be GENTLE. I've seen people battering exfoliators into their skin - you'll end up with a red face and broken capillaries. So be nice to your face!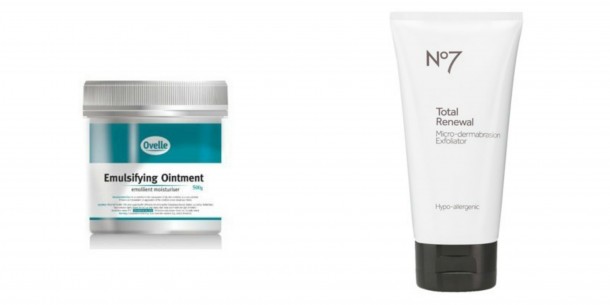 After this routine, your skin should look and feel better and your makeup should sit better. In general, following a good skincare routine every day should prevent the need for this emergency routine. If it happens, though, you'll be prepared!
Have you battered the bejaysus out of your skin with products or weather? And will you be trying this routine to counteract it?