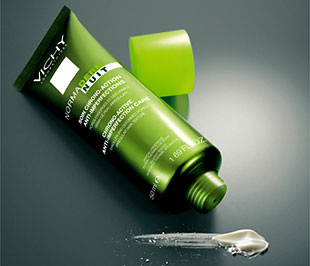 How in the name of all that's good and holy have I never written about this green tube of wonderfulness before?! Like all the Vichy Normaderm range, I keep this night cream on hand for times when my skin goes completely baloobas courtesy of hormones or too-rich products that drive it mad. Formulated for combination to oily skin to tackle over-dilated, swollen or blocked pores and regulate irregular or uneven skin texture, this is light and non-greasy and is quickly absorbed to leave skin mattified and fresh-feeling.
Key ingredients are the exfoliant and anti-bacterial agent LHA (lipo hydroxy acid) and anti-inflammatory, anti-oxidant Vitamin E, which are delivered directly into the depths of the pores thanks to Vichy's skin-permeating technology. Like much of the rest of the Normaderm line, Normaderm Nuit also features the Zincadone A complex, which contains three complementary active ingredients: exfoliating glycolic acid, anti-bacterial glycadone, and stimoderm to stimulate cell renewal. Together, they work to tighten pores, regulate sebum production and renew the epidermis.
Advertised
Vichy reckon that one month's use will result in significant and visible results, and I have to say that this stuff really, really works for me when my oily skin goes into overdrive. Find it at usual Vichy stockists around the country for about €15.