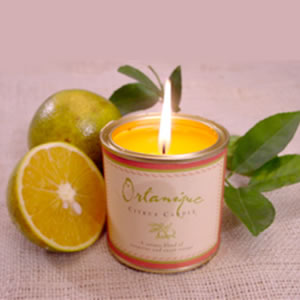 So, what have scented candles to do with beauty, you may ask? Oh, loads. They smell fab, and they're the perfect bathing accessory. I like nothing more than slapping on a luxurious face masque, running myself a decadent Jo Malone scented bath and lighting up a candle. Heat and Now! optional. Er I mean, Elle and Vogue, of course.
I got my lamhs on a gorgeous Starfish Oils candle recently. Infused with orange and tangerine oils, the Ortanique candle is delicious. And it comes in a little paint tin container, so it's really easy to extinguish - that might not seem like much of a consideration, but I hate blowing out candles because you get that horrid acrid smoky stink. Yuck!
Advertised
For such a nice candle, it's really reasonably priced - €12.50 from Vanilla Cotton. Get buying!