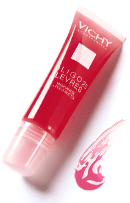 If you were taking a gander at kissandmakeup over the past few days, you'll have seen a post about this summers' must have lip item - the sheer lip gloss. Charlotte blogged about Molton Brown's Vitamin Lip Sheer Tinted Lip Balm, and that got me thinking about a sheer lip product I've been using for the past couple of weeks.
It's just out from Vichy and is a new addition to their Oligo 25 range. Regular readers will know I'm a mad fan of this stuff, so I immediately ripped it out of its packaging and gave it a whirl. It's now become a firm fixture in my jacket pocket. Non sticky and light, the new Oligo 25 Levres looks like a Juicy Tube, but is a lot kinder to lips. Because people, this is much more than a lip gloss. Vichy say that "a naturally intense lip colour results from sufficient micro-circulation and light reflection in the upper layers of their epidermis. But external aggressors (wind, cold, stress…) can cause the micro-circulation to slow down, resulting in weakened, fragile and dry lips. When they dry out, lips loose their natural ability to reflect the light and look dull".
And that's where Oligo 25 Levres comes in - it'll actually re-hydrate lips, leaving them feeling supple and soft. Those benefits increase with use - the more you use it, the more radiant yer smackers become. Plus, it smells and tastes only gorgeous.
Advertised
All that for €8.95? I'll have both! You'll get the new gloss in chemists nationwide, and it comes in two sheer shades - Radiant Red and Fizzy Rose.