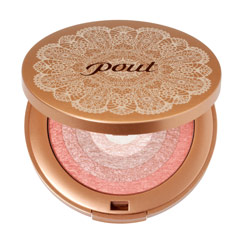 Pout have come up trumps again with their gorgeous new Shimmer Swirls, available in two colourways, baked sugar (in pic) and baked spice.
Like circular Shimmer Bricks in gorgeous, Pouty packaging, these are seriously covetable little yokes that'll add cachet to any mala, and because they're baked (like Chanel shadow and blush), this means the texture is super smooth and velvety.
Advertised
Both are available now and my guess is that they'll be in the €30+ region.