 One of the nice things about our recent move was that it forcibly reintroduced me to some things that I'd nearly forgotten I had. I discovered a pair of leopard print shoes under the bed that I'd spent months looking for (my search skillz may need some work) and in packing and unpacking my beauty bits, I found allsorts that I hadn't used in ages that were just crying out to be worn.
So here's what I'll be revisiting in February...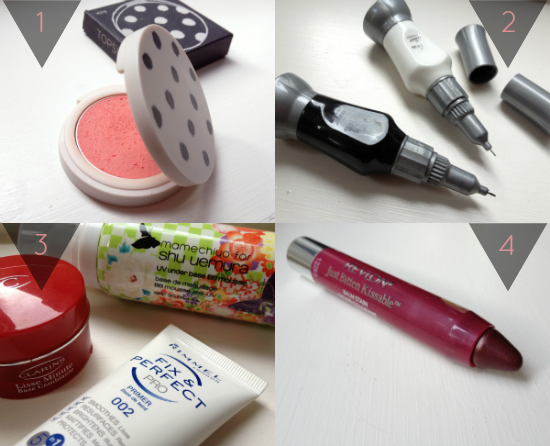 ONE
I really like Topshop cream blushers but I can count on two fingers the number of times I've worn this shade, Head Over Heels. It's a bright peachy coral that can be worn sheer for a flush of colour or built up with a light hand for extra impact, and it is perfect for spring.
Unfortunately stray blusher brush bristles tend do to get firmly lodged in these products; I picked them out for this photo op which is why it looks like the surface of the moon.
TWO
These Nubar nail art pens were a purchase at Olympia Beauty that I was less than impressed with, but since I've yet to come across my usual black and white pens in the moving mêlée (yes, I am still unpacking) and I'm damned if I'm buying new ones, they're being given another chance. I'm hoping that the polish will have thickened a little since I last tried them, which might make using them less of an uncontrollable blobby mess.
Advertised
We'll see!
THREE
Pure laziness means I've fallen out of the habit of wearing primer in recent times. This is a mistake, especially in winter, since I find that applying foundation without it is inclined to emphasise my dehydrated flaky areas. It provides a smooth (or, in my case, slightly less bumpy) canvas for make-up application so foundation doesn't get a chance to find and cling to those pesky flakies.
Clicky here for our review of Clarins Instant Smooth Perfecting Touch, here for Shu Uemura UV Under Base, and here for Rimmel Fix And Perfect Pro.
FOUR
I was on holidays last year for The Great Lip Crayon Battle of 2012, which is just as well because if I'd seen the resounding thumbs down Revlon Just Bitten Kissable Balm Stains received from you lot, I probably wouldn't have bought two of the things. As it happens, though, I like the firm texture and full-on pigmentation and love the minty scent and flavour, so I don't really know why I haven't been wearing my favourite shade (Crush Begun) to death.
It's an oversight that I intend to address with the quickness.
While I can see how these might be drying, I'm quite happy to work around that for the long-lasting stain they give and find that applying my own lipbalm prior to and after application staves off any drying effect without adversely affecting colour payoff.
Advertised
I've enjoyed really digging through my beauty archives to shake-up my everyday make-up so much that I might actively make it a regular occurrence!