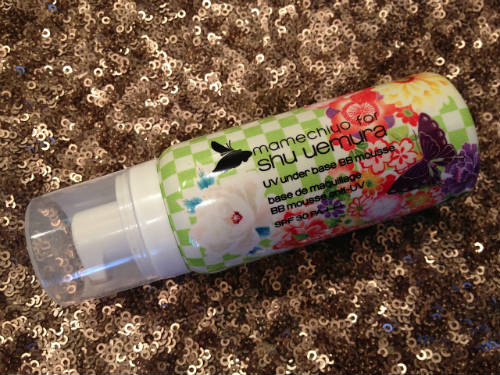 Like Shiseido, Kevin Aucoin, and most French cosmetic houses, Shu Uemura has the capacity to make me feel like a bit of a twit when it comes to pronunciation. (Thanks for nothing, German-obsessed '90s schooling.) Still, having perfecting the technique of mumbling the brand name to sales assistants on days when my Japanese accent isn't quite up to scratch, I've now managed to amass a collection of Shu Uemura's three most popular products.  These are of course their iconic eyelash curlers, their much-lauded cleansing oil, and, most recently, their oil-free UV Under Base Mousse. This stuff is so popular that all permutations of it are frequently sold out on online, but I had no problems picking up the BB version that Kirstie previewed a couple of weeks ago in store.
Aero light mousse texture
This my first foray into the world of full-sized BB products, and so far I'm really happy that it's the one I opted to spend my sheckles on. Unlike most of the BB samples that I trialled, its light, very slightly ashy beige colour is proving an excellent match for my skintone and I really like its mostly matte finish. And, of course, the aero-light mousse texture is radically different to the others: just like stupid sexy Flanders in his skin-tight ski suit, it feels like I'm wearing nothing at all.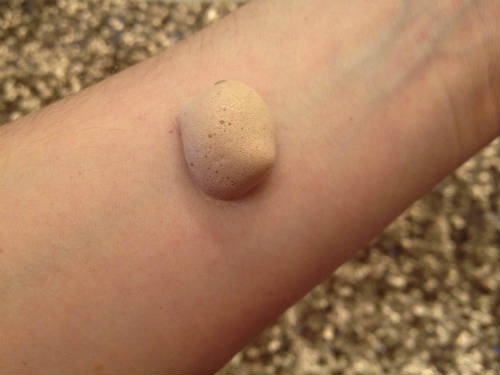 Cons
The mousse formulation does make it difficult to accurately gauge how much product is being dispensed. I don't think I've managed to achieve the walnut-sized amount advised by Shu even once; more often than not I'm ending up with something akin to a peanut with the first pump and then a coconut-sized overwhelmingness of product with the second.
My workaround is now to dispense a few mini-pumps into my palm and then smooth onto skin.
There's also a bit of a learning curve to its application as it affords very little play time once applied and dries quickly on the skin, making speedy blending a necessity.
Advertised
Pros
These are manageable quirks rather than insurmountable issues, though, and Shu Uemura UV Under Base BB Mousse is a workhorse of a product that actually delivers on all every claim it makes.
Skincare benefits come courtesy of hydrating Aquatoril and hyaluronic acid, which make for a very comfortable wear
Water affinity fillers absorb excess sebum and minimise the appearance of pores.
Contains significant UVA (PA+++) and UVB (SPF30) protection in the most cosmetically elegant formulation I've ever encountered.
Make-up applies really nicely atop it, so it definitely performs as a primer, but it also offers sufficient (and, to an extent, buildable) natural-looking coverage for redness, uneven skin tone, and minor blemishes while brightening skin to make it a truly viable alternative to foundation, even for this Double Wear Light devotee.
Great for combo and oily skin
I suspect that this won't suit the dry of skin or anyone with dry patches, but my combo/oily skin is loving it and, worn alone, it's my new everyday go-to base.
I feel like I've found my perfect facial sunscreen and predict that I'll be wearing it right throughout the summer. I'll just have to hope that no-one ever compliments me on it and demands to know what I'm using...