 It's wedding season, and whether you're planning your own, or looking for a risotto-proof dress that will withstand the car trip up next to your travel-sick cousin Amy, chances are that you'll have a wedding to deal with this Spring or summer. 
If it's your own wedding day, then it's very special. If it isn't, it is a hurdle and a happy day by turns. There's Leonard, your brother's friend, who keeps attempting to engage you in a conversation about animal husbandry because he doesn't know what flirting is. There's your auntie Mary who keeps trying to convert the bride's Protestant friends from Holland to Catholicism.  There's the challenge of what to wear.
Wedding makeup has one thing in common for everyone, be they bride (or groom) or guest - it needs to last a seriously long time. The focus with bridal looks should absolutely always be skin - you want to look radiant, fresh, and like your best self, and nothing radiates vitality, health and happiness like perfect, glowing skin. 
You're going to need to touch up at least once during the day in order to keep your makeup as fresh as it was in the morning. If your makeup is good, you'll need the following fo your handbag to get you through the day: a handy spritz like L'Occitane's new Precious Mist or Mac's Fix Plus will keep makeup glowing and stop it from sitting, whichever lip colour or gloss you are wearing on the day, and a great liquid concealer. These should cover you in every eventuality!
Here's a handy minimal Spring Bridal look that will work equally well for a wedding guest, last nicely through the day, and leave you looking like your best self.
Step One
It's essential to prep the skin on a day like this. A rich hydrating mask will plump skin up and make it immediately glowier. Leave this on for around ten minutes before cleansing, moisturising and starting your makeup. 
Skip the SPF today or you'll end up with flashback in photos. Opt for a foundation which offers good coverage, but doesn't leave skin looking masky. I'm going with Illamasqua Skin Base in 02 because it looks incredible in photographs and leaves a beautiful finish on the skin, and I'm buffing it into the skin with a Real Techniques Buffing Brush. You could opt for a damp makeup sponge for an equally nice finish, but pushing the foundation right into the skin with the brush will help it to last all day without moving.
We'll go back in and conceal at the end in case there's any dropdown from eyeshadow, so I'm moving on to brows. I'm going with Mac's Brow Pencil in stud, then brushing through the brow with L'Oréal's Brow Artist Plumper in Medium/Dark.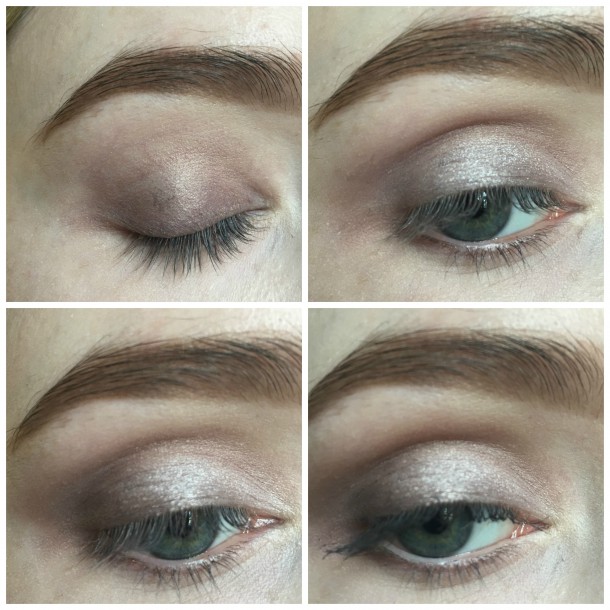 Step Two
To ensure that the eye makeup lasts, I'm applying a stick shadow first. I've chosen Chanel's Stylo Eyeshadow in Caroube from their upcoming Summer collection. Just apply it straight onto the lid and blend with a finger. It's a soft metallic brown available from May, but you can use any brown cream shadow that you have. To keep everything bright and light reflective, avoid a matte formulation. Run your cream colour a third of the way along the lower lashline too, working inward from the outer corner.
Next, it may seem odd, but I'm applying a powder shadow in a lighter colour over the top. This isn't generally how eye makeup is done, but the effect it creates is interesting and lovely and gives the impression that lots of hard work and blending have gone on when they haven't! I've chosen the exquisite Cinderella Stroke of Midnight Palette from Mac, but any nude and taupey shades will work.
Advertised
 The shadow I've chosen is Phloof! - the top right colour, an iridescent nude. I'm patting that all over the lid with a flat brush. It will stick to the cream shadow underneath and it won't budge all day.
Next, I'm taking Quarry - the shadow directly under the one I just used, and blending it along the crease of the eye with a fluffy blending brush, as in the bottom left photo above.
As this is a fresh Spring bridal look, I'm keeping the eyes top heavy so as to create a defined but not heavily made up effect.
Rather than using liner, I'm opting for Satin Taupe - the bottom left shadow in the palette above - and blending it along the upper lashline and along the outer third of the lid to give some depth and shadow.
Next, I'm running NYX Wonder Pencil (a nude liner) along my waterline to open up the eye and maintain that fresh look. I'm finishing by running some of Estée Lauder's little Black Primer through the lashes. If you like, you can transform this eye look and create a much more dramatic effect by adding false lashes or even a volumising mascara. However, I'm going for a subtle, demure Spring look which has no artificial feel to it. An LVL lash lift is a brilliant option to open eyes and give them drama without makeup.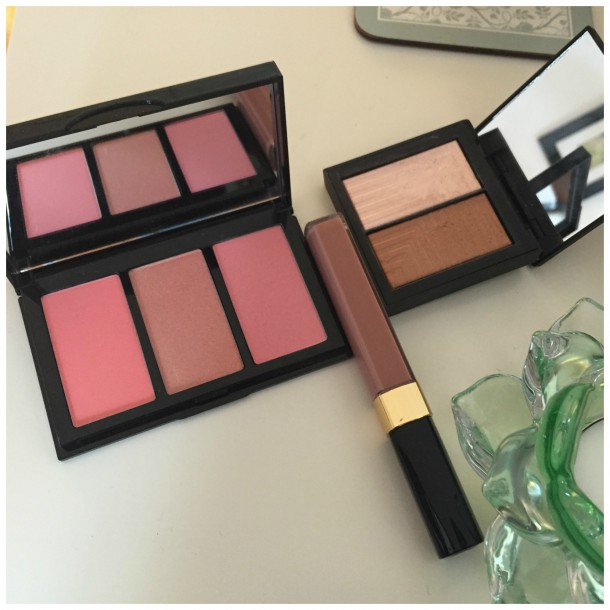 Step Three
Next, to the face! Conceal where necessary, opting for a long lasting liquid concealer which doesn't sit in lines. I'm using Collection's Lasting Perfection Concealer in Fair, and applying it where needed. 
To add structure to the face, I'm using Nars Dual-Intensity Blush. The one I've chosen - Craving - has a contour shade and a beautiful silvery pearl highlight. I'm buffing the contour shade in just under the cheekbones, but keeping it toward the ear area. If you imagine an invisible line going from the outer edge of your eye and down the face, don't take your contour across the line. If you do so, it will be visible head-on, and look fake.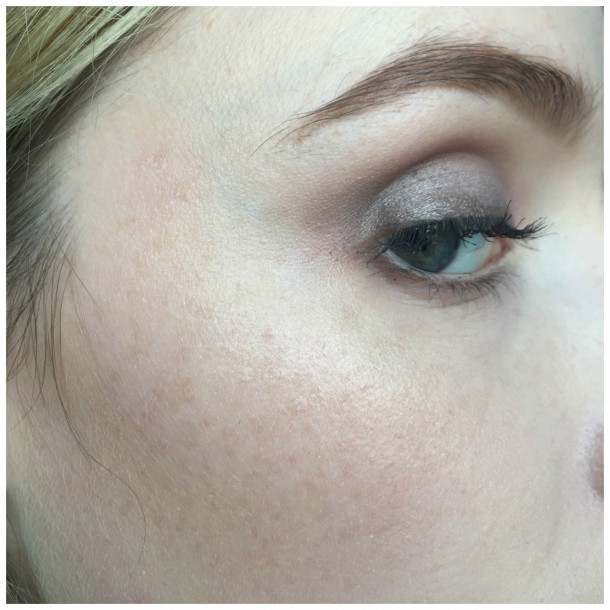 For extra gloss, I'm spritzing my brush with a facial spray to dampen it and then using it to apply my highlight. This intensifies the highlight hugely, and gives that candlelit effect. I'm applying it across the top of the cheekbones, to the cupid's bow and down the nose.
For blush, I'm using one of the new Cheek Palettes from Bobbi Brown (pictured above). I've chosen Calypso, an intense coral palette. I'm using the pinker shade on the left mixed with the highlight shade in the centre and applying it to the apple of the cheek, very slightly higher up than usual in order to keep that fresh, wide-eyed look.
I'm finishing with a slick of lip gloss in Beige Star from Chanel. You can top it up as you please throughout the day, but if it wears off with time or eating, your makeup will still look great and you don't need to fret about it!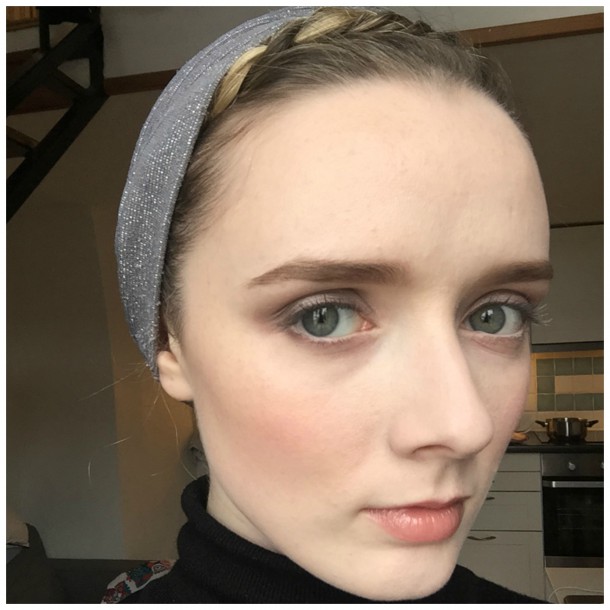 Advertised
Done! Do you have a wedding coming up? And do you prefer minimal or more full-on makeup for brides? To the comments!