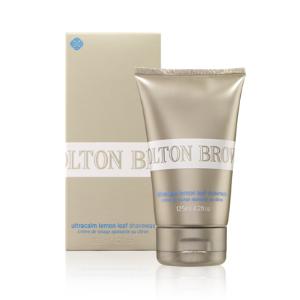 Following on from Darragh's comment last week and Aphrodite's post about nice smells for fellas, I thought I'd don my deerhunter and pipe and investigate which products A Boy In The Know would rate when it comes to shaving.
So I sat Himself down for a little interrogation. His skin is oily and sensitive, he's well acquainted with ingrown hairs, and tends to notice a five o'clock shadow appearing around, oooh, lunchtime. He's tried all manner of stuff for shaving: soap, oil, foam, gel, foaming gel, gelling foam... you see where I'm going with this.
Anyways, his current shaving aid of choice is Molton Brown's Ultracalm Lemon Leaf Shave Wax with lemon leaf oil, shea butter and Vitamin E. Fancy, wha'? Ah but sure isn't he worth it.
Advertised
Himself sez that it is really great stuff altogether, definitely the best he's ever used. (Oh, and apparently it lasts for ages, too.) It traps warmth next to the skin, softens hairs and reduces friction to give a really comfortable close shave. Rather snazzily, it also deep cleanses to improve skin condition.
Get yours from Molton Brown stockists around the country for €29, or if you're around Kildare, nip into the Molton Brown shop in Kildare Outlet Village where there are brilliant discounts to be had on all their lovely products.