 Oh the Christmas party. Some of us look forward to it with relish. Others, less so.
We know how it can go, Greg from marketing takes the opportunity every year at the office party to talk about his divorce from eight years ago while he looks down your top. Also Glenda from accounts, who smells like soup, sticks to you all night talking about her quilting business on the side.
Or, there's the family Christmas party. Sometimes it's a joyous occasion when a sibling comes home from across the globe and you all stand amid the fairy lights, counting your blessings. Other times, it's uncle Jimmy making everyone uncomfortable by asking why you haven't had babies yet. and pointing out that you are inherently invalid for this reason while stuffing his face with sausage rolls and drinking other people's booze. "I mean, aren't you embarrassed?" he asks, with his shirt protruding from his fly...
Still, whether you're dressing up just for the fun of it, or applying war paint and armour just to get through the evening, a good foundation is essential. Evening foundations tend to have higher coverage than their lighter daytime counterparts, and essentially, they can't contain any significant Sun protection Factor. If they do, you'll get flashback (I explain the sciency bit - sort of - of SPF here). Flashback is not when you recall the traumatic 'limbo incident' involving your boss at last year's Christmas party. It is the effect in photos where the titanium dioxide in your foundation's SPF causes the camera flash to bounce off your face and make it look much lighter than your body. So even though you might look foxy as a box of foxes on the night, the photos will make you look weird.
We can do better than weird. Here are six excellent options for evening foundations. Incidentally, they are all also excellent choices for weeding day makeup or any occasion when you need both good photos and good coverage. To the list!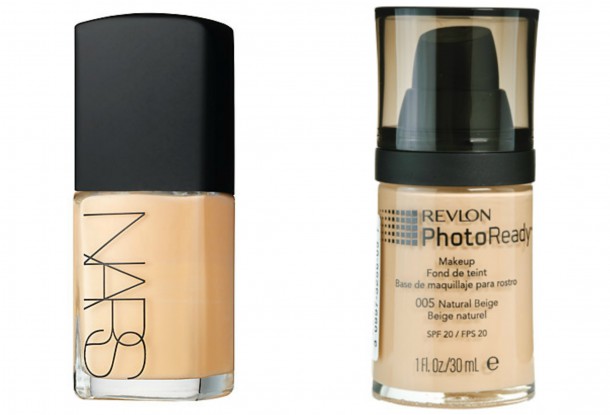 Cult favourite Nars Sheer Glow is certainly rather pricey, but I've taken to wearing it again in the winter months. Not great for drier skins due to the fact that it can settle in any patches, this foundation is brilliant for oily and combination skin, as is Revlon Photo Ready, the next base on the list. I'd forgotten how utterly flawless the coverage of Sheer Glow is, and the shade range is very inclusive. It even includes a shade - Siberia - for the super pale. One caveat - the shades tend to veer on the yellow side, but if you can find a good match, it's a brilliant foundation. Flawless coverage, a demi-matte finish and stellar lasting power make this an excellent choice for photographed events like weddings. I've used this on some very happy brides!
 Revlon Photo Ready Foundation (€19.50)
At almost €20, this pharmacy brand foundation is definitely on the pricier side. However, it is a nice dupe for a foundation which will appear later in this list, MUFE HD Foundation, which is almost double the price. Revlon Photo Ready Foundation is specifically designed to be photographed. Although it does oddly contain SPF 20, I've found that it holds up well in photographs and I've never had a problem with flashback. It's oil-free, so it grips the skin and looks good for long periods while offering impressive coverage.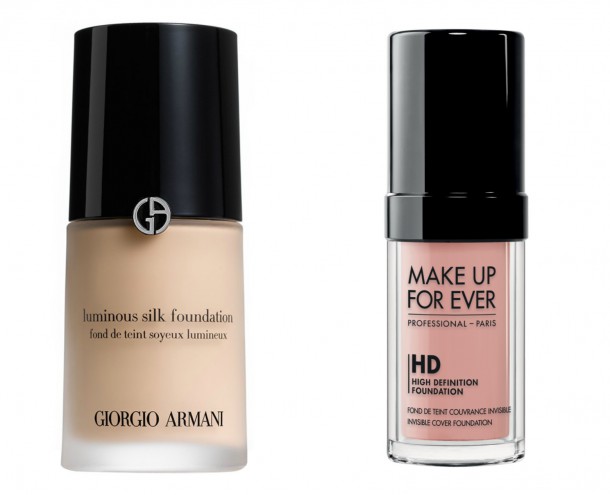 Advertised
Armani Luminous Silk Foundation (€43)
I know, I know, the price. But this foundation deserves its place on this list. In fact, it is a contender for my favourite foundation of all time. One of the rare few which can simultaneously work for day and for evening, it is divine, Perfect for those with drier skins due to its dewiness, it just gives the skin a radiant glow that makes it look great. Oilier folks can wear this too, but it's better for daytime if you have oily skin as you'll need to powder. If you're wearing it at night and don't have time to touch up, you'll have an oily schnoz in photos. Luminous Silk is well worth investing in if you can!
Make Up Forever HD Foundation (€39.50)
Another pricey option. but you can dupe it with Revlon Photo Ready above. The thing that makes MUFE's HD Foundation so good is the fact that it is a pro brand base designed specifically for HD cameras.The foundation comes in a staggering 26 shades and though the consistency is thin, you can build it to full and flawless coverage. I love it.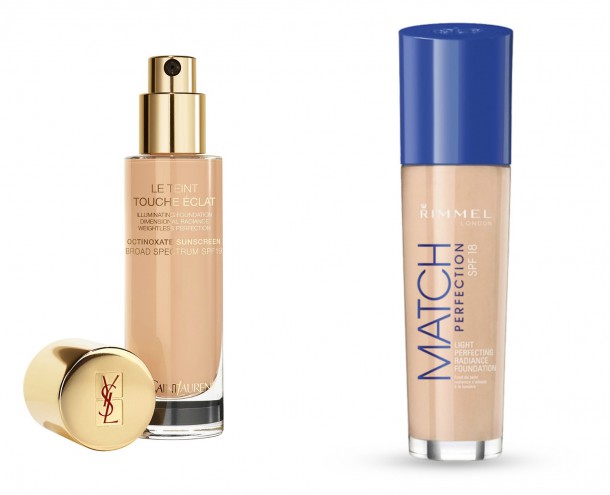 YSL Le Teint Touche Éclat (€38)
Though I adore YSL's latest offering, Fusion Ink Foundation, Le Teint Touche Éclat will always have a special position on my best foundations list. You can dupe it incredibly effectively with the next foundation on the list, but its beautiful packaging, refreshing scent and shade range are very hard to compete with. This foundation glides on with a delicious, buttery texture for medium coverage. If you like a more natural, dewy look in photographs or have dry skin, this will look beautiful.
You can also wear it if you're oilier, but powder fastidiously and keep an eye on it throughout your evening! This one is just perfect on brides!
Rimmel Match Perfection Foundation (€9.95)
I repurchased my third bottle of this incredible foundation just yesterday. It's been around now for over two years, but there's still no pharmacy foundation which can compare to it (I think so, at least - if you disagree, share your favourites in the comments). It is a dead ringer for Le Teint Touche Éclat. The shade range isn't large, though, so count your blessings if you can find your shade!
Advertised
Again, this is a lighter, more natural looking foundation with a glowy finish. At under a tenner, it's a very savvy buy and it photographs beautifully!
What are your go-to Christmas party or special occasion foundations? Share your favourites in the comments!