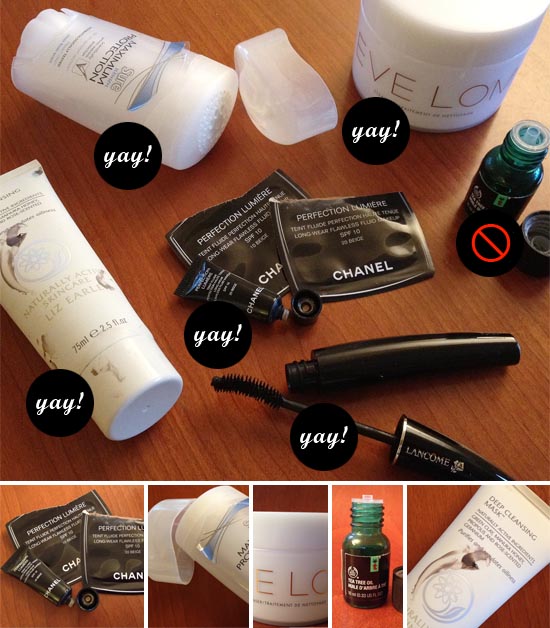 February was a bit of an odd month, and not just because of its truncated day count. It slid into March entirely too quickly for my liking - who knew a month could feel so short?! - but despite February's brevity I managed to finish a rake of beauty bits during its 29 days.
For the most part, I've either already repurchased or intend to replace the things I've used up. Things like...
1. Eve Lom cleanser
This one's a bit of a cheat, since I actually finished my last tub a couple of months ago and have been experimenting with other cleansers since. However, February was the month where I bit the bullet and sprung for a replacement, so I'm going to count it anyway.
I've heard all the arguments against Eve Lom: the fact that the tub packaging is unhygienic, it's prohibitively expensive, and it contains a petrol pump's worth of mineral oil, but the fact of the matter is that I have yet to find another cleanser that my skin gets on with quite so well.
2. Lancome Virtuose mascara
You know you've hit beauty gold when you find a product that's so very good, you finally stop casting about for something better. Lancome Virtuose is my holy grail mascara, and I simply can't be without it. I wear it day and night on my upper lashes only (I find it's inclined to smudge if I wear it on my lower lashes) and I find that it does it all: curls, adds a decent amount of length, volumises, defines, and separates my reasonably long but deadly straight lashes all day (or night) without clumping or flaking.
3. Sure Maximum Protection deodorant
I used to be a confirmed Mitchum devotee until I tried this stuff back in 2010, and I've been using it pretty much solidly ever since. Used as instructed (at night before bed and then again in the morning if required), it keeps dodgy underarm dampness and odour at bay all day long.
Sexy.
Advertised
My only gripe is that it's not entirely black clothes friendly, but as it's so fantastic in every other respect I grudgingly work around the problem by allowing it to dry completely and then dressing carefully.
4. Liz Earle Deep Cleansing Mask
Some clay masks are inclined to leave my sensitive combination skin feeling dry and tight, but the addition of skin-soothing manuka honey, propolis, and aloe vera of oil-absorbing green and white clay mean that this one calms and balances skin while drawing out excess oil and impurities.
This mask rivals Dermalogica's orange burns victim mask for attractiveness - it's a delightful greenish muck colour - and its sweet but earthy scent is a bit of an acquired taste, but one that I happen to like immensely.
5. Chanel Perfection Lumiere
I scrounged several samples of Chanel's new foundation on its release, and although I didn't expect to like it and despite the fact that three of the four shades I got are completely wrong for me, I have now squeezed every last drop of Chanel Perfection Lumiere from the little sachets and minuscule tubes. I really, really liked this foundation and will be treating myself to a full-sized bottle come payday (Kirstie got on well with it too, you can read her very thorough review here.)
Now, I did have issues with significant oxidisation, but unlike other foundations that start out one colour and wind up darker in patches as the day progresses I found that Perfection Lumiere actually oxidised so evenly that I could remedy the problem just by opting for a slightly lighter shade.
6. Tea tree oil
Advertised
This is the odd one out; the product I won't be bothering my hole to buy again. It's taken me flipping ages to use it all up - as a shampoo additive, in aspirin masks, on spots - and I am so glad to be able to chuck the empty bottle and finally see the back of it. Other people swear by tea tree oil but personally I just can't see what all the fuss is about.
What products have you finished recently, and will you be buying them again?