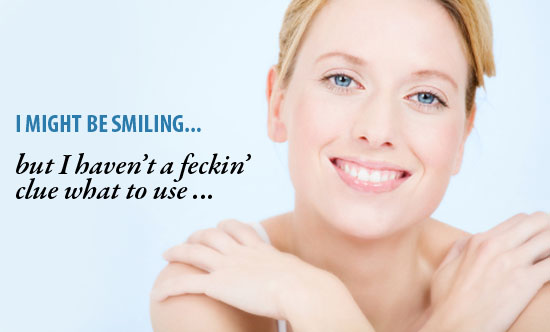 One of my favourite beauty factoids to quote is one that came from Vichy, which reckons that 69% of Irish women mis-diagnose their skintype. Me? I'm not surprised in the slightest – I even had a facial once where the therapist confidently advised that I have oily skin, based on a pre-period breakout on my chin. I explained that my skin is actually very dry, with a tendency to congestion on my chin, which, you guessed it, breaks out hormonally.
So if someone who's supposed to know this stuff professionally had trouble with me, it's no wonder us civilians are baffled. But the fact is, our faces hold clues to help us work out what sort of skin we have, and that helps us to figure out what skintype we fall into, which then allows us to buy and use the sort of products that are right for it.
You guys have been asking us for some pointers, so last week I took myself off to Urbana on Dublin's Wicklow street to have a chat with owner and beauty therapist Paula Cuddihy. She took me through the four main types – oily, dry, normal and combination, and gave me diagnostic advice and product recommendations. Interested to know what's what?
Advertised
This week I'll be bringing you the low-down on each type, but as always, it's worth pointing out that the majority of us don't have just one thing going on on our noggins. "70% of people have combination skin," Paula says, but most of us will fall into a 'majority' camp, which helps us to deal with the main issue we have, and we can tackle the other with masques, exfoliation, or targeted products like serums.
Me? As I said, I'm dry with congestion, so I treat my skin with oils for maximum hydration, and my Eve Lom cleansing routine is brilliant because, while it's expensive, it supports my skin without stripping it, and effectively de-gunks my bumpy chin.
So, sometimes a two-pronged approach is needed, but we'll be giving you the gen on that, starting off this afternoon with a how-to on diagnosing an oily skintype.