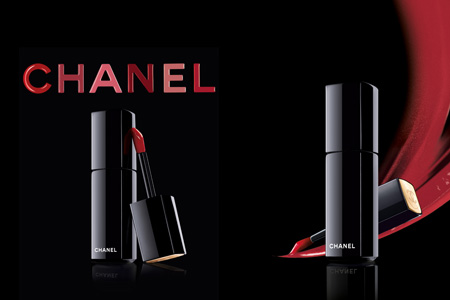 Sick of how quickly gloss disappears, but not a fan of the flatness of a lipstick? You may have looked to long-wear formulas from brands like Max Factor, Maybelline and Rimmel in that case, all of whom do products with a two-step  process of colour, followed by a glossy top coat. And they stay put. Welded on, they are. The problem is, they stay put so well that they dry out your lips and are, in fact, a general pain in the arse.
I've been trialling a Chanel launch that's due to hit beauty counters next week, and I think it's a great hybrid that will put paid to the conundrum of the mysterious case of the disappearing lipstick at lunch time. Rouge Allure Laque, €30.50, is not for the faint of heart. It gives thick, glossy shine with a decidedly vampish finish, so if you like your lips sheer and sparkly, look away now.
In lah-di-dah language, Rouge Allure Laque "combines the application technique of a gloss with the makeup finish of a lipstick.  Lips are smoothed, revealing the perfect dose of lacquered shine. A perfect finish that defies time with its excellent hold of up to eight hours."
Advertised
Eight hours? Ah now, I wasn't born yesterday, Chanel, but a thorough test of Dragon, an in-yer-face, super glossy red, revealed that one application was pretty much enough for an entire night in the pub. Plus, it's non-drying, comfortable to wear, super-glamorous and shinetastic - not to mention gorgeously packaged.
A firm thumbs up from me, but you can try it yourself from the 16th March, when Rouge Allure Laque will be on counter nationwide.