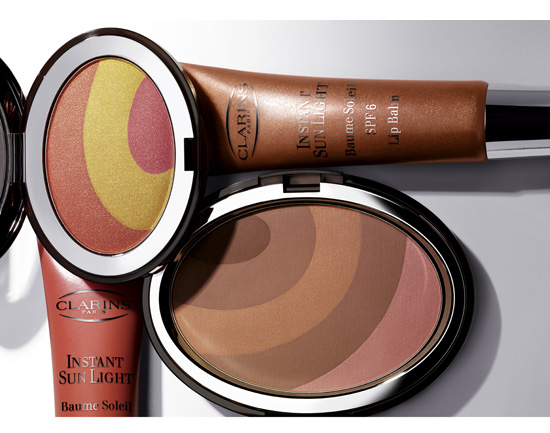 Two brands that are impressing me more and more each season are Revlon and Clarins. Both have come back from the dangerous brink of frumpiness, no mean feat in the beauty biz where consumers are fickle and choice is huge.
Clarins' new Instant Sun Light products for summer 09 are a case in point. While the outer cases retain the same classy lines as their other offerings, these products come in bronze and silver compacts nestled inside soft brown pouches. While they're very nice, it's the insides I'm focusing on. So pretty!
Clockwise from top left we have the four limited edition offerings. Shimmer Palette, €25.11*, is the brand's answer to Bobbi Brown's Shimmer Bricks and contains three stripes of gold, coral and pink to highlight cheeks, chest and browbones.  Next up we have one of two lip products, the Lip Balm SPF6 in Sunset Bronze, €16.07, (it's joined bottom left by Sunset Coral). Below it is the Summer Glow Palette SPF15, €35.16, a mix of matte and subtly shimmery bronzers. Yum.
Advertised
There are also two permanent additions: a Bronzing Powder SPF 15 in three shades and a Bronzing Duo, and all will preview at Brown Thomas stores from 11th May, going nationwide shortly afterwards.
*Lastly - what's with the bonkers prices, Clarins? €25.11?? Were €25 or €24.99 not available?