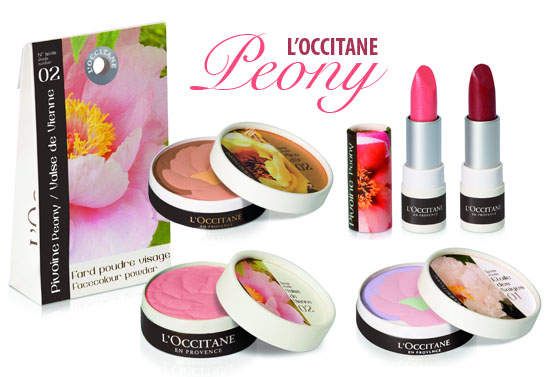 Well, here's a turn-up for the books, eh? L'Occitane is launching a makeup collection in selected Irish stores from May 4th. They've had some colour cosmetics before alright, but not for about a decade, which in beauty terms means it was a time akin to when the world was Pangea. So we can feel justifiably excited about the Peony collection, which focuses on face powders and lovely lip colours.
Taking the new notion of colour cosmetics with skincare benefits and running with it, all product formulas are paraben-free, and the use of synthetic pigments is restricted to just 2% in each formula, with silicones coming in at 5% in each. All of the products contain a natural peony extract with softening properties, too. So, what's what?
Contained within pretty card packaging, above you can see Healthy Glow Face Powder, €31.50, top left. Essentially, it's a soft bronzer. Below is one of seven Facecolour Powder Duos, €18.50 each. The shade is Valse de Vienne, and these are designed for use on the eyes. Directly to its right is the very pretty Illuminating Powder,  €31.50. It does more than just look good, though: the green shade corrects redness, the mauve tackles dullness, while the blend of pink and white brightens the complexion.
Lips are going to be treated to both lipstick and gloss. Above you can see two of the four Peony Lipsticks, €18.50 each, in Mme Louis Henry and Feu d'Artifice. There's also a lipgloss collection, Peony Liquid Shine Lip Colour, €14.95, in four shades. It smells DELISH! That's not all: keep an eye out for Peony Tinted Water, €13.95, a Benetint-alike product to deliver a hint of colour to cheeks and lips, and Peony Lip Balm, €13.95.
This line is huge - in addition to the colour component, there's a complimentary scent range, Paeonia, too. An EDT, €39.95, intense roll-on, €19.95 and body care products make up the fragrance end of things.
Advertised
So, where'll you be able to bag yourself some Peony goodness? Stockists are after the cut.
The make up collection will launch in five stores on the  May 4th:
Wicklow Street
Dundrum Town Centre
Liffey Street
Cork
Limerick
The fragrance and body care collection will be available in stores nationwide from May 4th too.