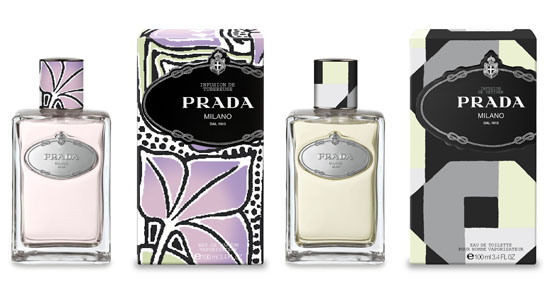 Attention fancy packaging fans! Last year Prada launched a new limited-edition fragrance suite, the Ephemeral Infusion Collection, with the idea being to release yummy perfumes on an annual basis.
The debut last year was Fleur d'Oranger, which won as many plaudits for its box as it did for its, y'know, smell. And hey, if it ain't broke don't fix it: so this year's versions, Infusion de Tubereuse for women, and Infusion de Vetiver for men, also have very nice outer wrappers, inspired by the brand's archives.
Advertised
Oh, and the perfumes? Tubereuse is a blend of tuberose, petitgrain bigrarde, blood orange and dynamone (no, me either). Vetiver is packed with tarragon, vetiver, Madagascan pepper and purple ginger. Available from April, they'll cost from €67 for 50mls for the female scent and from €53 for 50ml for the gents version.