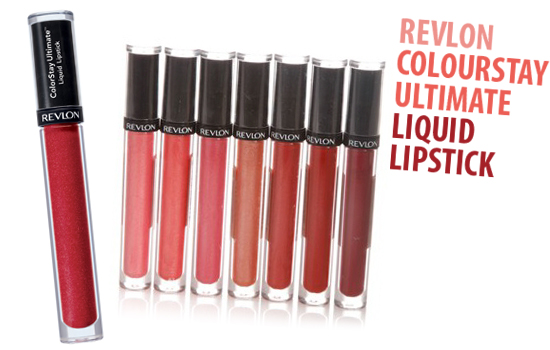 This just in: in early July, a new breed of hybrid lip product will hit Boots and Debenhams counters from one of my new favourite brands, Revlon. The Matte collection will land before Colourstay Ultimate Liquid Lipstick, which is just as well, because you might want to get saving.
Oh, it's not that the products individually are expensive: at €13, they're very affordable. And they're massive - you get a lot of gloop in each tube. The issue may be that you'll want them all, especially if you're a gal who detests lipstick or gloss maintenance.
Me, I've never had a problem with re-application, but I have been keeping my beady eye on the new breed of lip hybrids with interest. Chanel's new Rouge Allure Laque's are gorgeous and last, and I've been mainlining Bourjois' So Delicate matte lip shades. Revlon promise 'food-proof wear for up to 12 hours - no topcoat or touch-ups required', so I was naturally sceptical.
Application is a cinch: apply like a gloss, and resist smacking your lips together for about a minute to allow the product to set. Once that's done, lips are slightly tacky, but no more so than they'd be with lots of other products. The finish is subtle with a satin sheen.
Advertised
Does the colour last 12 hours? No. Or at least, not on me. BUT - of course there's a but - an application of Stellar Sunrise (a pretty coral) on Friday at 8.30am survived a breakfast meeting of buttered toast and eggs, many cups of coffee and water plus a lunch of smoked salmon at 1pm, with only a bit of wear in the middle of the lips to show for it.  Not bad at all.
Why am I giving you my dietary requirements for the day? Because I've often found longwear lip products quail and die at the merest hint of oil, and this stuff didn't, all without making my lips feel too much like the Gobi desert. There was a bit of flaky skin that evening alright, but none of the soreness and tightness I've come to expect from long-lasting lip formulations.
12 shades make up the collection with more to come, which is good, as they're all fairly similar at the moment. I'd love to see a shocking pink, a really, really deep coral, a true red and a dark, seductive purply-burgundy for night.
So, the verdict? These will grab all sorts of people: those who want more longevity than a gloss offers; those who go for pretty, understated lip shades and those who cannot abide re-application will all give these the thumbs up. You'll find them at larger Boots', Debenhams branches and independent pharmacies from early July.