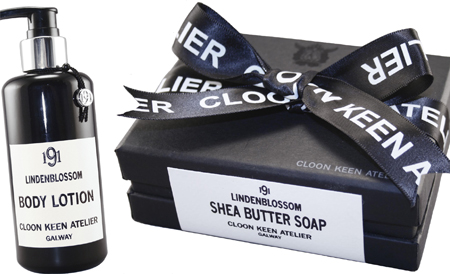 Galway has a well kept beauty secret: Cloon Keen Atelier. A family run business, you might already know them for their gorgeous candles. But if they're not yet on your radar, they soon will be, as the recent launch of the 191 Lindenblossom body care range is going to catapult them into stylish bathrooms everwhere.
That fab, high-end packaging - wouldn't chunky black glass, embellished card and silver fixings look amazing in your house? - hides some pretty delicious smells too. I oohed and ahhed as I lifted the products out of their be-ribboned tissue, and the proof is in the pudding - they're all now in use in my bathroom.
But such niceness has to come at a cost, doesn't it? Check after the cut for the terrifying prices.
Advertised
Ha! GOTCHA. This is quite possibly the best part. Rip off Ireland be damned, these babies provide affordable luxury. Liquid soaps are a mere €12.95, body lotion is €18.95, a chunky shea butter soap comes in at €13.95 and the candle in the range is €19.95.
Buy now at at 3 Kirwans Lane, Galway; Ceardlann, Spiddal, Co. Galway or online from www.cloonkeenatelier.com