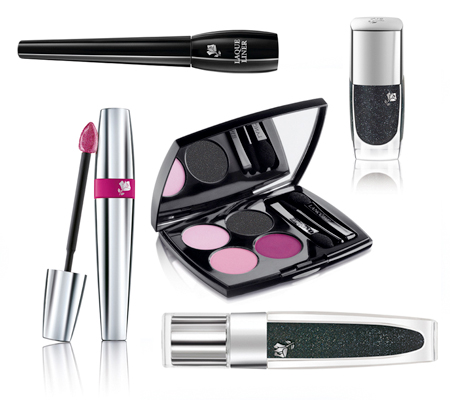 Like the new Chanel collection that Kirstie posted about yesterday, Lancôme's offerings for Spring/Summer 2009 are decidedly less sugary than what we're used to seeing at this time of year. This is Aaron De Mey's first full colour collection as Artistic Director of Make-Up and it's edgy, fun and punky, with lashings of vibrant fuschia and black glitter accents inspired by the New Zealand native's childhood memories of the black sands of Piha Beach.
The cornerstone of the collection is the Pink Punk & Black palette, €45, an eyeshadow quad of clashing textures: three matte pinks of varying depths alongside the glimmering Piha Black shade. Complementing this are a new eyeliner, Laque Liner in black or sparkling silver, €24.50, which is a high-shine formula for intense and dramatic eyes, and a new lipshine, La Laque Fever, €24.50, which combines the vibrant colour of lipstick with the sexy shine of gloss to give a highly pigmented sumptuous pout that lasts up to 6 hours. And sure what new seasonal collection worth it's salt wouldn't feature a covetable nail varnish? Le Vernis nail lacquer in Piha Black, €19.50, puts me in mind of Dior's Vernis in Black Sequins, with its silver and blue micro-glitter particles, and looks only fab.
Advertised
Oh, and if you fancy matching your lips to your new nail varnish, fear not - there's a Colour Fever Gloss in, yup, Piha Black, €19! This is intended for use as a topcoat to bring a subtle sparkle and intensity to lips but can also be used alone as a regular lipgloss to really freak out your co-workers bring out your dark side.