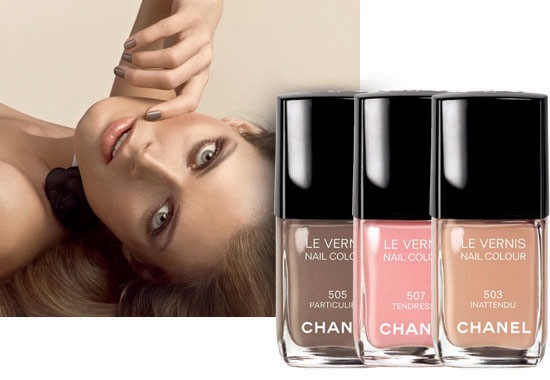 Lynnie gave us a sneaky peek of Chanel's oh-it's-totally-gonna-be-a-must-have nail colour back in October and we all discussed the pros and cons of mushroom nail polish at the time. Sweetie1 said, "I'm loving this shade," but PinkPanther declared firmly, "not a fan."
Well, that polish, more specifically called Particulière, will arrive on counter on the 29th and it'll cost €21. It's joined by two pretty bedfellows, Inattendu, a peachy beige and Tendresse, a peachy pink.
Advertised
It's probably the most mainstream and wearable range of nail shades we've seen from Chanel for a while and it'll appeal across the board I think - trendsetters will be rocking Particulière just like they have Rouge Noir, Vendetta and Jade in previous seasons, but the other two are work, rest, play AND bridal friendly. What do you reckon, though? Is your imagination fired by the trio and will you be lining up come the launch day to buy?