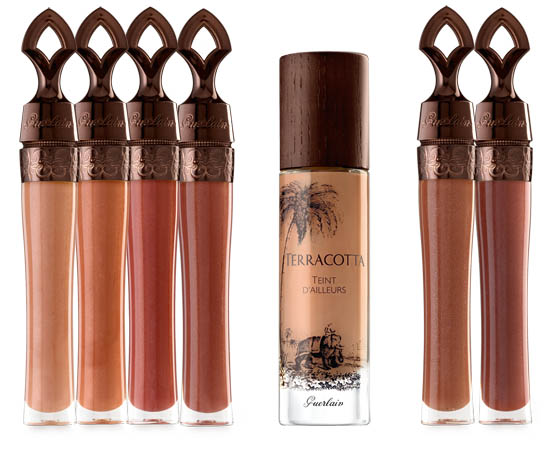 One of the nicest things about the summer (yes, lets just forget we don't get one) is that Guerlain reliably launch a Terracotta collection each year. Dedicated to blondes and brunettes, with products to suit each, the new lineup will land on the 27th of March. And it's a good'un.
Above you can see six Terracotta glosses, €25.88. With SPF15 and you'd-kill-for-it packaging, I reckon these'll be a hit. In the middle of 'em is a little something new: it's the Terracotta Teint D'Ailleurs, €41.33, and it's a bronzed moisturiser with SPF10. Good for adding a hint of a sun-kissed glow, it's quite dry-textured which I liked - tinted products often give me horrible congestion and an oil-slick appearance. I think this would mix well with moisturiser or apply nicely over the top.
Wanna see what else is in the line-up? Lots more after the cut!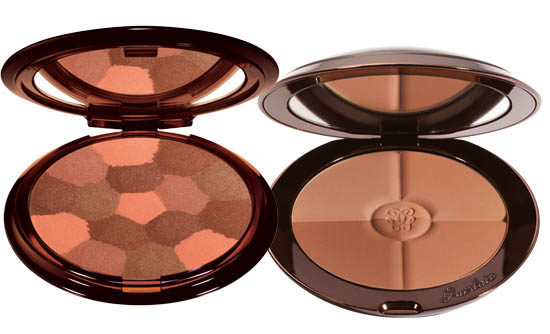 Advertised
Phew, yep, there is a bronzing compact, In fact, there are two. On your left you can see Terracotta Light summer bronzing powder, €44,82, for both blondes and brunettes.  It's a limited edition piece and very pretty, but the real genius in the collection lies to the right. This is Terracotta 4 Seasons, €59.74. Billed as a 'tailor-made bronzing powder with pure gold and SPF10', this also comes in two colourways and is designed to be your year-round bespoke bronzer.
Firstly, you pick which shade you are, blonde or brunette. Then, depending on the season - or the level of tan you are - you select two shades to use together to get the right level of colour. So, if it's summer, you sweep the bottom two together (or all four if you're feeling brave); in autumn you're likely to want a little less bronze, so you'd use the two shades stacked on top of each other on the right, and for winter you'd use the top two colours together. Clever, eh? This will join the permanent collection, by the way.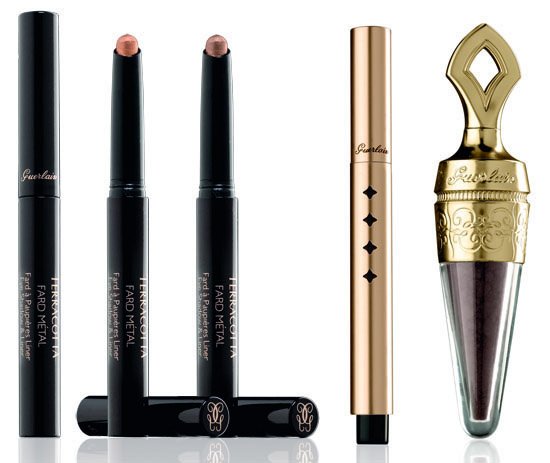 Here are some more beauties: on the left we've got some MAC Shadestick-esque Terracotta Fard Metal eye shadow and liner. Limited, they're €28.89 each and come in two shades, gold rush and smoky metal. Both are lovely - creamy and silky-smooth. Next up is another permanent addition. It's Terracotta Touch and is a 'glow-enhancing perfector with pure gold'. Designed to add illumination and radiance to the complexion, it's a Touch Eclat-style brush pen and it'll cost €32.87.
Lastly? Oh we have one of Guerlain's mysterious Kohls. This is Terracotta Kohl in Mirage, and it's €30.88. Mysterious because no one knows how to use 'em: apparently what you do is unscrew the top, and take it off. Attached to it is an applicator which sits down into the loose kohl, so it's nicely saturated. Then you close your eye and draw the applicator gently between the two lids. Voila! A perfectly kohl-ed eye!
Advertised
What do you think of the collection? Any stand-outs for you?