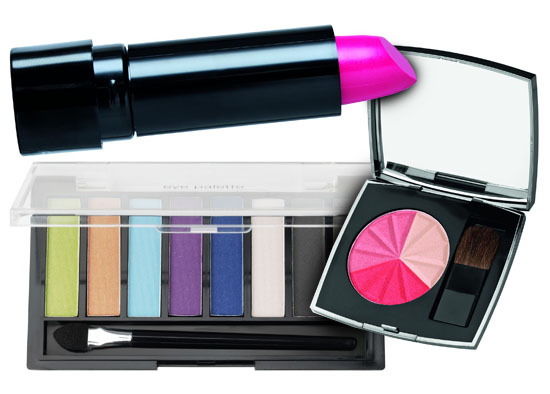 M&S is probably not the first place you'd think of for colour cosmetics but they have had some decent bits and bobs over the years - notably those recent forays into on-trend polish shades. The company's colour and skincare lines have just had a makeover though: new packaging, new formulations and good prices make it all well worth a look, and the fact that everything is cruelty-free and sports the bunny logo is a big bonus.
These three caught my eye, probably because they're not what you'd expect from Marks and Sparks.  On top we have Essential Colours Lipstick in Bright Magenta, €3.50, below it is Essential Colours Eye Palette in Brights, €7, and beside that is Perfection Satin Finish Powder Blusher in Cool Pink, €13.
Advertised
Based on the colours alone, the blush and lipstick can happily come and live in my beauty bag, and while the palette isn't quite my cupan tae, it could be a good bet for anyone who'd like a few brights on hand, but who doesn't want to shell out Mac prices for singles. I haven't tested the pigmentation - so definitely have a go of a tester in-store before you buy.