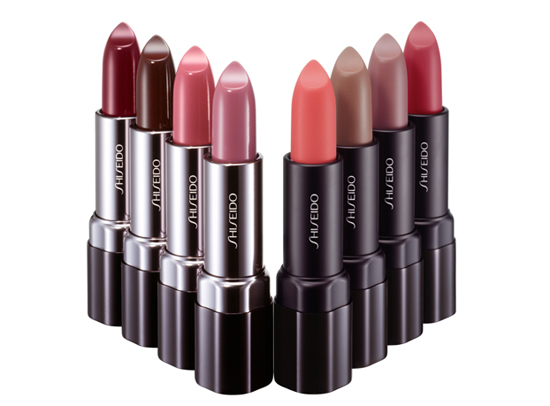 Two spring summer 2010 previews in one day? Why, shiver my premonition-timbers, Batman. I've a pile of 'winter skin savers' posts to churn out yet but look at all the pretty colours! And the truth is, I'm not a very Christmassy person - brights suit me and my temperament oh so much better.
These new lipsticks from Shiseido (and we do like a lipstick from Shiseido) will arrive on counter in the new year there are eight of them, in two finishes. A bit like the love affair we've been having with glossy vs matte nails, Shiseido will play with texture too. Neither line is designed to be opaque; Perfect Rouge Tender is billed as 'more casual than lipstick - more natural than gloss', while Perfect Rouge Glowing Matte is described as 'semi transparent colour with a subtle sheer look'.
On your left are the Perfect Rouge Tender lipsticks in (from bottom) pout, tender, natural wine and natural red. Lining up from bottom right are the Perfect Rouge Glowing Matte colours in sugarbabe, natural beige, wink and coral glow. €24 is the damage for each bullet and you'll find 'em at counters in early February
Advertised
Psst: a bonus point for anyone who hazards a guess at what they think my fave is - g'wan. There might even be a wee prize in it for you!