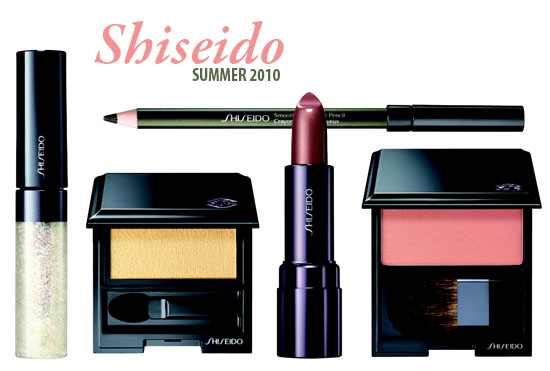 The inspiration for the limited-edition summer line from Shiseido apparently came from makeup maestro Dick Page's interest in coastal shores, aquatic plants and seashells - and you can actually see that in the colour palette: deep green, coral and pearled reflects make this a small but nicely formed collection with one or two additions that are pretty unusual for summer.
So, what's what? From left we have  Luminizing Lip Gloss in Rainbow, €22, which is a transparent shade with multicoloured pearl. Beside it is Luminizing Satin Eye Colour in Ocean Sunset, €25, a gold. Next up is one of those unusual ones - the lipstick in this line is one of the brand's Perfect Rouge Lipsticks, €24, and the shade is Red Triton, a golden red. For summer, we don't often see reds so I'd be interested to try that one on.
Next up there are three Luminizing Satin Face colours, €36. You're looking at Starfish, but there are also Medusa, a pale silvered violet, and Shell, a bronze, in the collection. Lastly? A very nice-looking Smoothing Eye Liner Pencil in black sand, €20, a greeny black. Again, not a traditionally sunshiney shade, but it's nice to see a point of difference in a sea of summer launches that mine the colour spectrum from bronze to blue and back again.
Advertised
Like the look of anything?