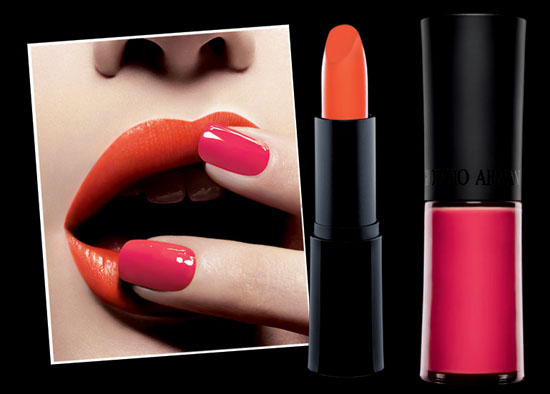 Seriously,  I have been so excited about this new collection from Giorgio Armani for months now - since I met Linda Cantello, the brand's makeup whizz, last November, in fact. I've been badgering the poor PR who probably wants to throttle me as she has enough to be doing, and I even woke up this morning wondering when it would arrive.
OH HAPPY DAY!
At precisely 12.10, an email arrived heralding the imminent appearance of Tokyo Corals on July 1st. But why am I so excited? See, I'm half-and-half with Armani. Liners: gorgeous, buttery soft pieces of fabulousness. Foundations: generally a thing of joy and wonder. Lipsticks: have yet to meet one I didn't like. Blusher: am in love with Blushing fabric and want to marry it. I'm less gone on the shadows and the general emphasis on the sedate, and because Tokyo Corals features BRIGHTS and nail polishes - another point of excitement - this is why I am so giddy.
Advertised
So, we'll have eight sheer lipsticks landing, all in variants of corals from oranges up to pinky-reds. Two, cherry blossom pink and vibrant tangerine, will have matching bright lip shimmers to wear alone or layer over lipstick, and there are two nail shades launching as well: bright coral and pink are what we can treat fingers and toes to.
Prices? Not forgetting Giorgio Armani is a luxe line, sheer lipsticks  and lip shimmers will be €24, with the nail polish coming in at €19.