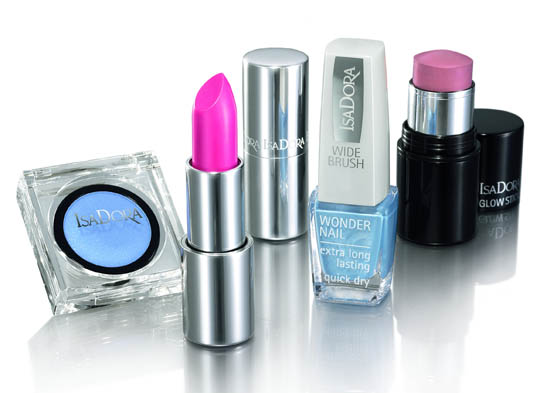 IsaDora quite often has some really interesting little seasonal bits and bobs - like the shatter-effect topcoats that so caught our attention a few months ago - but the unrelenting need to accompany new lines with eye-bleed model shots on the displays in-store is something that's unfortunately always put me off it a bit as a range.
No one wears blue, green and yellow eyeshadow to the browbone. No one. And they definitely don't compliment it with orange lips and peach fingertips. Unless they are a nail varnish wearing parrot, that is.
I've left the model shot out of this round-up so that we can judge the Fanciful products on their own merits. There are at least two things here I'd like to own: the first of which is one of the new Jelly Kiss Lipsticks, €12.95, in Bare Bliss, Rose Blush, Pink Parfait (above) and Lilac Tulle. Fragrance-free, these will deliver semi-transparent glossy colour.
Advertised
Also new, and one Nars' Multiple fans will sit up and take notice of is the Glow Stick Blusher in Rose Bud. €14.95's the damage here for this shimmering, buildable cream stick blusher. Another one for my list, I think.
Wonder Nail Polish is going to come in Bonbon Mint, Doll Pink, Mellow Yellow and Blue Sky (above) for €7.50 a go and it's the blue I have my beadies on.  Three single Eye Focus Eye Shadows, €9.95, in Lilac Daydream, Blue Sky (above), and Bonbon Mint are also incoming as is Fine Liner Eye Stylo in Carbon Black, €10.95, Inliner Kajal in Satin White, €9.95, and Flashy Curl Mascara in black for €13.95.
The products will be arriving on stands around the 10th of February. Do you like the look of anything from Fanciful?