 Nuxe have reformulated their Creme Fraiche De Beauté range, and it's going to stop dehydration from taking over your face
'Tis the season for dry and dehydrated skin to rear its flaky head. The signs can start to show now, but you can prevent it from getting to that red, patchy, flaky state if you start taking care of it early. You can do a lot to help maintain moisturised skin from the inside and stop dehydration in its tracks. Drink lots of water and eat lots of salad, green vegetables and fruit. Vitamins A and C from these nutrient rich foods will help to keep your skin healthy and hydrated.
Next, you need to look after it from the outside. The Nuxe Creme Fraiche de Beauté range is perfect for all skin types, even sensitive, this winter. The moisturising cream has a deliciously creamy 'melting butter' texture. It's very light, and a little goes a long way. A pea-sized amount was plenty for my whole face, and I have dehydrated skin.
The scent is delicious. A combination of botanical milks and Algae Extracts give it a wholly natural smell that envelopes you. I know for some people scent is not important, but I think it makes your daily skin routine so much more. It becomes a spa like experience. Breathe in the scents of Petitgrain, Orange Blossom and Cedar for a relaxing effect before bed or before facing the day. I genuinely like to enjoy my beauty regimen and use it as a little 'me time'.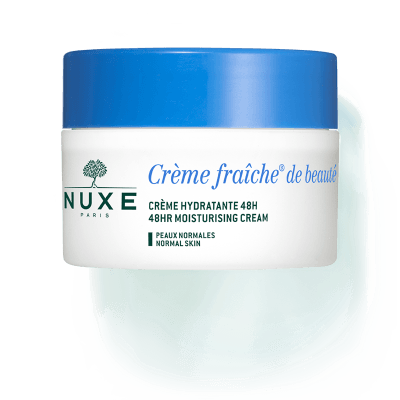 Advertised
The moisturising cream doubles up as both your day and night cream. For daytime, it works well underneath makeup; I let it sink in for about a minute before applying. This cream has no SPF - this is the case with products that are over 90% natural, simply because they cannot be totally natural if they add SPF chemicals. Yes, SPF is essential, but you don't need it at night time and you can use this cream for both. During the day, just apply your SPF over your cream or use a makeup formulated with SPF over it.
If your skin is particularly dry, you should use the Creme Fraiche de Beaute 48Hr Skin Quenching Serum underneath. It has natural origin Hyaluronic Acid for intense hydration for dry to very dry skin types. The gel-cream texture, infused with water, feels like it soaks deep into your thirsty skin. Using a serum before your moisturiser will enhance the hydrating and plumping effects of your cream by pulling the product into the deeper levels of your skin.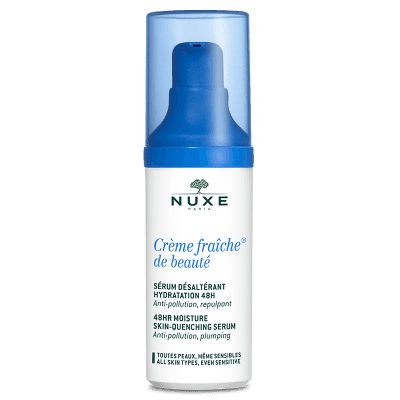 The cream comes for normal skin and for dry skin types. I loved the cream for normal skin and found my skin smoothed, soothed and hydrated with the cream. Oh, and my other half loved it too. How many of your partners rob your moisturiser on a daily basis? No harm in your man enjoying a fragrant bit of moisturiser as well, though. Their skin needs protection from pollutants, too. So there's another plus - the range is suitable for men and women.